Kerala: Temple throws vegetarian iftar for Muslims who helped restore premises
The Shree Narasimhamoorthy Temple in Punnathala organised an iftar party for Muslims.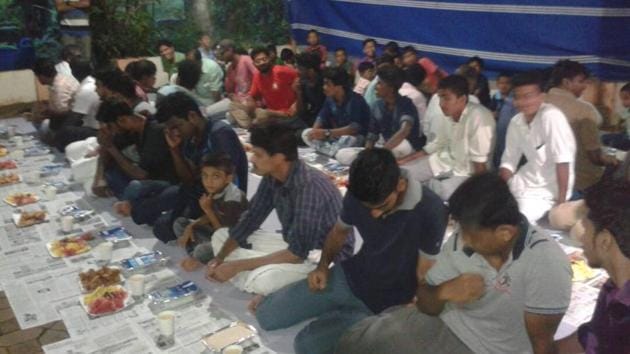 Updated on Jun 02, 2017 03:09 PM IST
A temple in Kerala's Muslim-dominated Malappuram district held an iftar party for Muslims fasting during the month of Ramzan, amid a row over a central notification regulating cattle sale and slaughter across the country, which is being seen as an attempt to target minorities.
The Shree Narasimhamoorthy Temple in Punnathala had enough reasons to hold such the event on its premises after Muslims loosened their wallet generously for the restoration work that was recently carried out on its premises.
Initially, the temple was planning a mass banquet but later changed its plan and decided to host an iftar - the meal with which Muslims break their fast during Ramzan. At least 500 people thronged the temple hall on Wednesday for the feast and, of course, there was no non-vegetarian dish.
"For us, it is the festival of the area not of a particular community," T Asainar, a teacher, said summing up the bonhomie.
The neglected temple was in ruins when the shrine committee took up the renovation and deity restoration work and Muslims wholeheartedly supported the move. The centuries old idol of the presiding deity, Lord Vishnu in the Narasimha avatar, will be reinstalled on Sunday.
"Here we live like a single family. We consult each other on important occasions. In fact, the suggestion to renovate the age-old temple came from some Muslim families of the area," temple committee secretary PT Mohanan said, adding that a major chunk of expense (around Rs 20 lakh) was borne by Muslims.
Youngsters from both the communities lined up in large numbers during the temple renovation work as well as the iftar party during Ramzan, the ninth month of the Islamic calendar when Muslims abstain from food and water from sunrise to sunset and join mass prayers at mosques.
Mohanan said the tiny village was a classic example of religious unity and that people who always think and work on communal lines should take a lesson from it.
In a notification announced last week, the government said cows and buffaloes cannot be sold for slaughter at animal markets across India, allowing only farmland owners to trade at animal markets.
The notification, which banned the sale of cows, bulls, bullocks, buffaloes, steers, heifers, calves, and camels, has triggered a political storm in India. Slaughter of milch cows is banned in all states except in Kerala and in parts of north-east India.
Cows, considered holy by many Hindus, are a sensitive political topic and have gained importance since Prime Minister Narendra Modi stormed to power in 2014 and several BJP-ruled states enacted strict laws to punish cow slaughter.
But many say the expanding protection for bovines is a proxy war against Dalits and Muslims – as exemplified by the lynching of dairy farmer Pehlu Khan in Rajasthan in April or the flogging of Dalit men in Gujarat's Una last year.
Close Story
Personalise your news feed. Follow trending topics