Kumaraswamy oath ceremony today: Kejriwal, Mayawati, Mamata to attend in opposition show of unity
Attending the Kumaraswamy oath ceremony will be UPA chairperson Sonia Gandhi, Congress president Rahul Gandhi, West Bengal CM Mamata Banerjee, Kerala CM Pinarayi Vijayan and Andhra Pradesh CM Chandrababu Naidu, among others.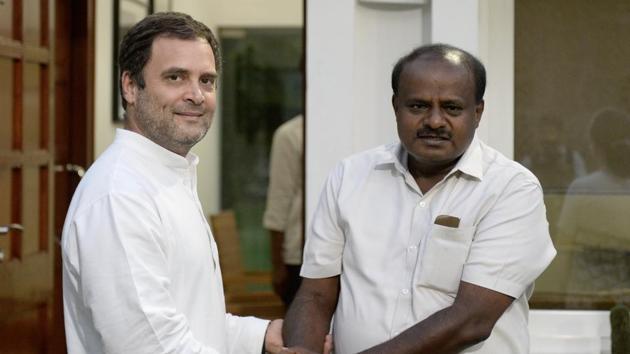 Updated on May 23, 2018 02:24 PM IST
Bengaluru, Hindustan Times |
Venkatesha Babu
A galaxy of opposition leaders will be present when JD(S) leader Kumaraswamy takes over as Karnataka chief minister in Bengaluru on Wednesday.
Today's function will be one of those rare occasions when regional leaders cutting across party and ideological lines will be present on one platform.
UPA chairperson Sonia Gandhi, Congress president Rahul Gandhi, West Bengal CM Mamata Banerjee, Kerala CM Pinarayi Vijayan, Andhra Pradesh CM Chandrababu Naidu, Bahujan Samaj Party chief Mayawati, Akhilesh Yadav of the Samajwadi Party, Ajit Singh of the Rashtriya Lok Dal, Tejaswi Yadav of the Rashtriya Janata Dal, Delhi CM Arvind Kejriwal, and actor and politician Kamal Hassan are expected to be present at the event that will happen in front of the Vidhana Soudha, the seat of power in Bengaluru.
The JD(S) has also invited BSP chief Mayawati and chief ministers Mamata Banerjee (West Bengal), V Narayanasamy (Puducherry), N Chandrababu Naidu (Andhra Pradesh), K Chandrasekhar Rao (Telangana), Pinarayi Vijayan (Kerala), and Arvind Kejriwal (Delhi).
Samajwadi Party chief Akhilesh Yadav and Communist Party of India (Marxist) general secretary Sitaram Yechury are also likely to attend.
Whether this bonhomie translates into a larger Opposition unity ahead of the 2019 Lok Sabha polls, one need to wait and watch.
A Congress functionary, familiar with the developments, said the function will be short as only a few leaders from both sides are expected to take the oath of office.
full-fledged cabinet expansion, however, will take place after Kumaraswamy wins the floor test he is expected to take within 24 hours of being sworn-in as the chief minister for the second time in 12 years.
Kumaraswamy was invited by governor Vajubhai Vala to take power after the three-day BJP government collapsed last Saturday after Yeddyurappa, unable to muster the required number for a majority, stepped down as the chief minister without facing the floor test in the assembly.
The May 12 Karnataka assembly polls threw up a hung verdict with the BJP emerging as the single largest party with 104 seats. The Congress was next with 78 and the JD(S) followed with 37. The BSP has one MLA and two seats went to Independents.
Close Story