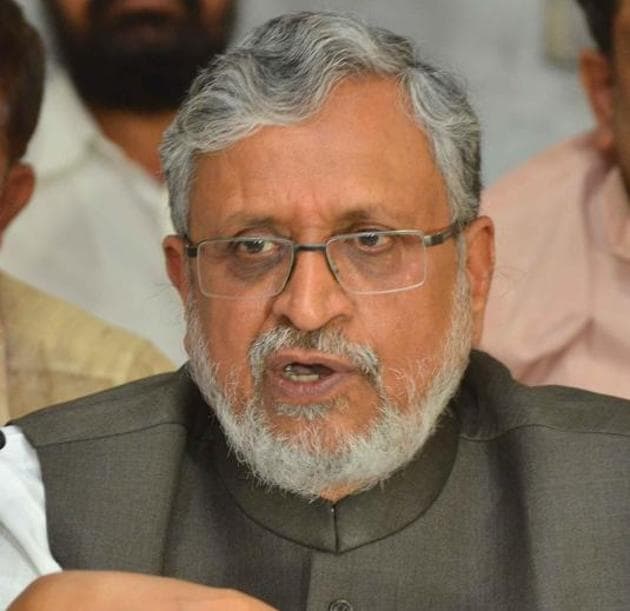 Lalu & Co owners of Rs 100-cr worth of 'dubiously' sourced property : SuMo
BJP leader Sushil Modi, on Saturday, made fresh revelations about 'dubiously-sourced' properties of members of the immediate family of RJD chief Lalu Prasad.
PUBLISHED ON APR 22, 2017 06:19 PM IST
Leader of BJP legislature party Sushil Kumar Modi on Saturday fired yet another salvo at RJD chief Lalu Prasad, alleging that he also used Mumbai-based AB Exports Pvt Ltd, as a "front company" to acquire prime residential property in one of the posh localities of Delhi, for his family members.
The former deputy chief minister-cum-finance minister said it was surprising why five diamond and gold traders of Mumbai contributed Rs 5 crore in interest free loan (1 crore each) to AB Exports, for the purchase of 800 sq metre property, D-1088, New Friends Colony, New Delhi, in 2007-08.
Maintaining that AB Exports was also used as a shell company, on the pattern of Delight Marketing and AK Infosystem, for purchasing properties only to be "acquired" by Prasad's family along with assets later, Modi said "the quid pro quo behind the deals must be investigated to unravel the truth."
He said he was unable to figure out why the original promoter Ashok Kumar Banthia would hand over the company, whose asset is now valued at Rs 55 crore, to Prasad's son and deputy CM Tejashwi Prasad Yadav (who owns almost 98% of the shares) "at a throwaway consideration of Rs 4-5 lakh."
In the instant case, he said, "Prasad's daughters, Ragini Lalu and Chanda Yadav, are directors. Now, nearly 60 crore is being spent to construct a four-storey building. What is the source of the money being funnelled for the construction, when company did not transact any business or recorded any turnover in the last 15 years?"
Modi also questioned why several companies belonging to former corporate affairs minister Prem Chand Gupta and Prasad's family shared the same address - D-1088, New Friends Colony, New Delhi. "It will be interesting to find the trail (and reasons) behind the handing over (to Prasad's family) of companies belonging to Gupta, Om Prakash Katyal (AK Infosystem) and Banthia, whose combined present day worth of assets added to more than Rs 1,000 crore," he said.
Bihar chief secretary Anjani Kumar Singh had, on Friday, said that no evidence of any irregularity has been established during the scrutiny of documents related to the purchase of excavated soil by Patna Zoo from the site of a mall, which Modi claimed belong to Prasad's family.
Modi responded by saying, "we started digging for a scam in the supply of soil without tender. We ended up discovering a mall. The state government can initiate an inquiry into the "deals" and takeover of companies, along with huge assets, under the Prevention of Corruption Act."
Modi had raised the issue of Rs 90 lakh soil purchase 'scam' on April 4, which, he alleged, had been done to benefit Prasad's sons—Tej Pratap and Tejashwi Prasad Yadav—who owned the two acre land from where the soil was generated in the process of creating basement for the upcoming Mall on Patna's Bailey Road.
RJD spokesman Shakti Singh Yadav was quick to rebut Modi, saying that he should now "shut up" and "apologize" for levelling unsubstantiated allegations in the light of 'no scam' certificate from the chief secretary. But Modi was not willing to relent.
"What else could have the CS done to prove true to the government which appointed him? I will keep on raising the issues and force chief minister Nitish Kumar to break his silence. Prasad is owner of the dubiously sourced property over Rs 100 crores, which he must explain," Modi said.
Close