Life term for four Maoists, 10 years' RI to one, in DFO Sanjay Singh murder case
The quantum of punishment against five Maoists convicted in the February 2002 murder case was pronounced by POTA special court of district and sessions judge Prabhunath Singh, at Sasaram (Bihar) on Wednesday.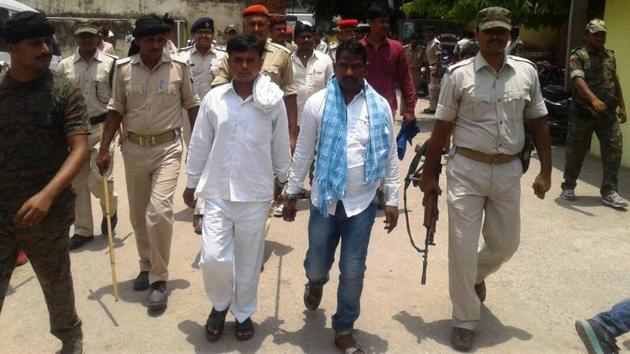 Published on Jul 05, 2017 07:49 PM IST
Hindustan Times, Sasaram |
Prasun K Mishra
A Prevention Of Terrorism Act (POTA) special court at Sasaram in western Bihar, on Wednesday, awarded life imprisonment to four Maoists and 10 years' rigorous imprisonment to a fifth ultra, for the murder in 2002 of a then divisional forest officer (DFO) Sanjay Kumar Singh.
The then zonal commander of the now defunct Maoist communist centre (MCC) Nirala Yadav, main accused in the case, Ram Bachan Yadav, Nitish Yadav, and Lalan Singh Kharwar, were the four persons awarded life imprisonment in the widely reported murder case while 10 years' RI was awarded to Sudama Oraon.
Special prosecutor, CBI, Deep Narayan Singh, who appeared for the prosecution, said the court also imposed a fine on the convicts.
Senior advocate Bal Mukund Prasad, who pleaded for former Maoist zonal commander Nirala Yadav, said he was waiting for a written copy of the judgment and only after studying it would he decide on the future course of action on behalf of the convict.
On June 21, the special POTA court of district and sessions judge Prabhunath Singh had pronounced the first four guilty under sections 302/149, 148 and 353/149 of Indian Penal Code, section 27 of Arms Act and 3(2) (1) and 22 (5) of POTA.
Sudama Oraon was found guilty under section 20 of POTA for being a member and supporter of a terrorist organization. The special POTA court had fixed July 5 as date of hearing in the case on the quantum of punishment to be awarded to the convicts.
The DFO had been shot dead by a Maoist squad led by Nirala near Rehal under Nauhatta police station in Rohtas district on February 15, 2002. The place is situated in dense forests on Kaimur hills at a distance of about 300 km south west of the state capital Patna.
After the murder of Singh, the police had registered Nauhatta PS case no. 04/2002 against 25-30 unknown Maoists, on the basis of the statement of the then Range officer, Kumar Narendra, who was accompanying Singh on the fateful day.
The case was handed over to Central Bureau of Investigation (CBI) on directions of supreme court on March 22, 2002. The CBI registered a case no. RC 4(S)/2002 and submitted separate charge sheets in the special court under the above mentioned sections of IPC, Arms Act and POTA, against 23 accused.
The agency had mentioned 93 witnesses in the charge sheet.
Nirala Yadav, 55, the main accused in murder case and the then zonal commander of MCC, who allegedly pumped nine bullets into the DFO, is a resident Van Bishunpur village under Dhibara police station of Aurangabad district of south central Bihar.
At least, 17 cases had been registered against him in Rohtas and several in adjacent districts including Aurangabad and Gaya. Records show he joined the outfit in the age of 29. Later, he was made commander of Aurangabad-Gaya Local guerilla squad (LGS) and rose to become zonal commander. He is class two pass.
Ram Bachan Yadav, 28, a resident of Babhan Talab village in Rohtas was recruited into MCC child squad at the age of 11 and five cases had been lodged against him. He is illiterate. Nitish Yadav, 40, belongs to Chatra district in Jharkhand. At least 14 cases had been lodged against this class 7 pass ultra.
Lalan Singh Kharwar, 35, belongs to tribal royal Kharwar family of Bhudkuda in Rohtas. He joined the outfit to counter veteran criminal Ram Bali Yadav who had forcibly captured his family land. Ten cases had been lodged against him.
Sudama Oraon, 42, of Madha village in Rohtas, a class 7 pass activist, joined the outfit in 2001 and was working as a courier when the DFO was murdered. He was facing trial in seven cases.
Close Story
Personalise your news feed. Follow trending topics