CM Yogi Adityanath keeps home, revenue: UP portfolio allocation highlights
The portfolios of Uttar Pradesh ministers will be announced a day after chief minister Yogi Adityanath was reported to have discussed the distribution of ministries with the BJP's central leadership.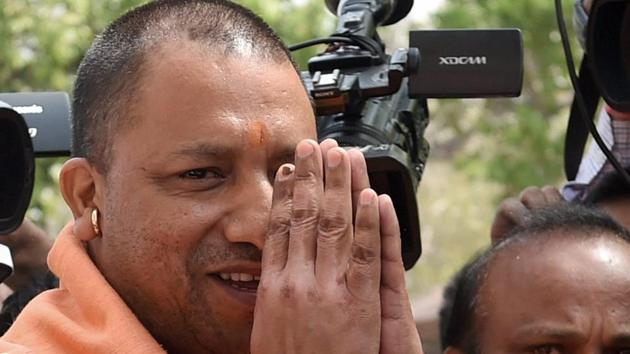 Updated on Mar 22, 2017 07:45 PM IST
The portfolios of Uttar Pradesh ministers were allocated on Wednesday, a day after chief minister Yogi Adityanath was reported to have discussed the distribution of ministries with the BJP's central leadership.
The CM has kept around three dozen departments including the key home and revenue portfolios with himself . His ministries include information, housing and urban planning, food and civil supplies, mining, personnel, institutional finance, estate according to the the list released by Governor Ram Naik on Wednesday.
Sources said Adityanath wanted to keep the home department while his deputy Keshav Prasad Maurya was also trying to get the portfolio.
Deputy CM Keshav Prasad Maurya has been given the public works department (PWD), food processing, entertainment tax and public enterprises department.
The other deputy CM, Dinesh Sharma was given Higher and Secondary Education, Science and Technology, Electronics and IT departments.
The finance portfolio went to Rajesh Agarwal, while Sidhharth Nath Singh has got medical and health department.
Besides two deputy chief ministers, Adityanath's council of ministers has 22 other Cabinet ministers, nine ministers of state with independent charge and 13 ministers of state.
Here are the updates:
7:35pm: If the licensed slaughterhouses violate rules, strict action would be taken against them, says Shrikant Sharma, UP minister, reports ANI.
7:26pm: Anti-romeo squad's aim is to make women feel safe and to prevent any wrong incidents against women from happening, says Sidharth Nath Singh.
7:24pm: CM said that File index should be maintained in order to track the movement of any file, says UP minister Shrikant Sharma: ANI
7:20pm: In the cabinet meeting, CM said that we have to restore rule of law in the state and address problems of the public, cabinet minister Sidharth Nath Singh said in a press conference.
7pm: List of ministries with chief minister Yogi Adityanath: Home, Housing, Town and country planning department, Revenue, Food and Civil Supplies, Food Security and drug administration, Economics and statistics, Mines and Minerals, Flood control, stamp and registry, prison, general administration, secretariat administration, vigilance, personnel and appointment, information, institutional finance, planning, estate department, urban land, UP state reorganisation committee, administration reforms, programme implementation, national integration, infrastructure, coordination, language, external aided project, Relief and Rehabilitation, Public Service Management, Rent Control, Consumer protection, weights and measures
6:50pm: List of state ministers with independent charge
Anupama Jaiswal- Basic Education, Child Development and Nutrition, Revenue, Finance
Suresh Rana- Cane Development and Sugar Mills, Industrial development
Upendra Tiwari- Water conservation, Land development and water resources, Sodic land deveploment, Forest and Environment, zoological gardens, Horticulture, Cooperatives
Dr Mahendra Singh- Rural Development, Integration rural development, Medical and Health
Swatantra Dev Singh- Transport, protocol, energy
Bhupendra Chaudhary- Panchayat Raj, PWD
Dr Dharam Singh Saini- Ayush, Relief and Rehabilitation
Anil Rajbhar- Sainik Kalyan, Food processing, Home guards, Prantiya Rakshak Dal, Civil Defence
Swati Singh- NRI, Flood control, Agriculture Marketing and Export, Women Welfare, Maternal and child welfare
List of state ministers
Gulabo Devi- Social welfare, SC/ST welfare
Jai Prakash Nishad- Animal Husbandry and Fisheries, Estate Department, Urban land
Archana Pandey- Mining, Excise, Prohibition
Jay Kumar Singh Jacky- Prision, Public Service Administration
Atul Garg-Food and Civil supplies, Rent control, Consumer protection, Weights and measures, Food safety and drugs administration
Ranvendra Pratap Singh aka Dhunni- Agriculture, Agriculture education and research
Neelkanth Tiwari- Law and Justice, Information, Sports and youth welfare
Mohsin Raza- Science and Technology, Electronics and Information Technology, Muslim Waqf, Haj
Girish Yadav- Urban Development, Relief and Rehabilitation
Sardar Baldev Olakh- Minorities welfare, Irrigation (engineering)
Mannu Kori- Labour and Employment Exchanges
Sandeep Singh- Basic, Secondary, Higher, Technical, Medical education
Suresh Pasi-Housing, Vocational education, skill development
6:40pm: Swami Prasad Maurya gets labour and employment exchanges, urban employment and poverty alleviation.
6:35pm:Ashutosh Tandon gets technical and medical education while Nand Gopal Gupta Nandi has been given stamps and court fee and civil aviation ministries.
6:30pm: Sidharth Nath Singh has been given medical and health ministry; Rajendra Pratap Singh gets rural engineering while Mukut Bihari Verma will be heading cooperatives ministry.
6:23pm: Om Prakash Rajbhar will get backward class and handicap welfare; Brajesh Pathak, law and justice, non-conventional energy while Laxmi Narayan Chaudhary gets minorities welfare, religious endowment and dairy development
6:20pm: Satya Dev Pachauri gets MSME, Khadi and textile; Ramapati Shastri given social welfare and SC/ST welfare; Jay Prakash Singh given excise and prohibition ministies.
6:18pm: Dara Singh Chauhan has been allocated forest and environment; Dharm Pal Singh gets irrigation and SP Baghel gets animal husbandry
6:15pm: Rajesh Agarwal has been allocated finance department, Satish Mahana gets Industrial development
6:11pm: Suresh Khanna is to get Parliamentary Affairs, Urban Development, Integrated Urban Development ministries.
6:09pm: The other deputy CM, Dinesh Sharma, has been allocated Science and Technology, Electronics and Information Technology ministries besides Secondary and Higher Education.
6:05pm: Deputy CM KP Maurya will also look after Food Processing, Entertainment Tax and Public Enterprises Departments, reports ANI.
5:53pm: Shrikant Sharma gets power ministry, Rajesh Aggarwal gets finance ministry, reports ANI.
5:46pm: Rita Bahuguna Joshi gets child development ministry, maternal and child welfare and Tourism.
5:45pm: Surya Prakash Shahi is set to get Agriculture
5:35pm: CM Yogi Adityanath to keep home and finance portfolios with him, say sources
5.22am: Dinesh Sharma will get higher education, according to sources.
5.18am: Chetan Chauhan is set to get the sports ministry.
5.17am: Siddharth Nath Singh is likely to get the agriculture ministry.
5.15am: Source say Keshav Prasad Maurya will get the PWD ministry. Earlier reports had said Maurya wanted the home department.
Close Story
Personalise your news feed. Follow trending topics