Highlights| PM Modi says India-Russia summit 'very productive', added new vigour to relations
Prime Minister Narendra Modi and Russian President Vladimir Putin will meet on the third leg of the Indian PM's four-nation tour of Europe, with the pair looking to bolster declining Modi R trade between the once key partners.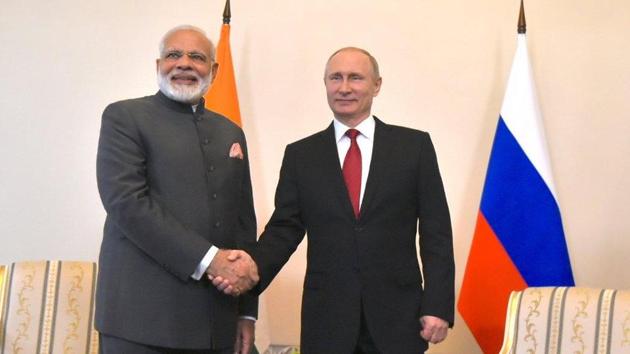 Updated on Jun 02, 2017 12:29 AM IST
Russian President Vladimir Putin held talks with Indian Prime Minister Narendra Modi on Thursday on the sidelines of the Kremlin's annual economic forum.
Modi and Putin met on the third leg of the Indian PM's four-nation tour of Europe, with the pair looking to bolster declining trade between the once key partners.
Modi is the guest of honour at this year's three-day Saint Petersburg Economic Forum -- Russia's answer to Davos -- that Putin will use to push the idea that Russia has turned the page on a brutal recession caused by low oil prices and sanctions over Ukraine.
Here are live updates from Modi's Russia visit:
11:10 pm: India, Russia sign St Petersburg Declaration for enhanced ties across the board.
India's relations with Russia are special. 70 years of India-Russia ties have seen remarkable cooperation & convergence on key issues: PM Modi.
The press statement by Prime Minister Narendra Modi during his visit to Russia can be read here.
9:24 pm: PM Modi says a road in Delhi has been named after Russia's Ambassador Alexander Kadakin.
9: 24 pm: India, Russia to hold first tri-Services exercises 'Indra 2017': PM Modi.
9: 12 pm: India and Russia are cooperating extensively in various multi lateral forums like the BRICS and G-20: PM Modi.
9:10 pm:
India and Russia cooperation has grown extensively. President Putin and I reviewed the full range of our ties & how to deepen them: PM Modi.
9: 08 pm: India and Russia sign agreement for setting up of Units 5 and 6 of Kudankulam Nuclear Power Plant in Tamil Nadu: PTI.
8: 12 pm: India working to raise contribution of manufacturing sector to GDP from 16 per cent to 25 per cent; Russian companies can take advantage in this: PM Modi
8: 06 pm: We will continue to increase investments, says Russian President Vladimir Putin at CEO forum meeting in presence of Prime Minister Narendra Modi.
8:05 pm: PM Narendra Modi addresses CEOs in Russia.
He says Russia has been by our side from time to time, even the business community helps to bring both the countries closer. Companies from Russia should explore the opportunities in India and collaborate with Indian industry.
7: 07 pm: Official Twitter account of President of Russia tweets about meeting with PM Modi.
"There were great many events and many things have changed in that period, but the main thing that has remained unchanged in our bilateral relations is a special, trust-based friendly relationship between our nations," read a transcript on the website of President of Russia.
6:37 pm: We had a wonderful meeting during which we discussed India-Russia relations: PM Modi
6:30 pm: In an interview to PTI, Putin says there is no other country in the world that Russia has "deep cooperation" in delicate areas such as missiles.
No matter where terror threat comes it is unacceptable and Russia will always support India in fight against terror: Putin.
Russia does not have any tight military relations with Pakistan. Russia is respectful toward all Indian interests, says Putin.
5:46 pm: India to formally become Shanghai Cooperation Organisation (SCO) member within a week, says Russian President Vladimir Putin.
5:36 pm: In relations there are ups and downs but India and Russia have not seen ups and down in their relations: PM Modi says during meeting with Russian President Vladmir Putin.
PM Modi also remembers the sacrifices made by Russian people especially by President Putin's brother
5:27 pm: A special nature of trust and friendship in the relations between the two countries and its people, says Russian President Putin in a meeting with PM Modi in St Petersburg, Russia.
PM Modi says both Russia and India believe in the benefit and happiness of all.
4:49 pm: Prime Modi and Russian President Vladimir Putin begin restricted meeting ahead of delegation- level summit.
1.18pm: PM Modi visits Piskarovskoye Cemetery in St Petersburg, Russia and pays floral tributes to the victims of the World War II at the historic site.
(with inputs from agencies)
Close Story