Mamata Banerjee publishes book on Bengal govt's achievements; what a waste, say rivals
Jun 23, 2018 03:24 PM IST
Opposition parties said West Bengal chief minister Mamata Banerjee's book was sheer wastage of public money to fund Trinamool Congress' political propaganda.
Her focus set on the 2019 Lok Sabha elections, West Bengal chief minister Mamata Banerjee has published a 512-page book detailing the 'successes' of the Trinamool Congress government in its seven-year rule of the state.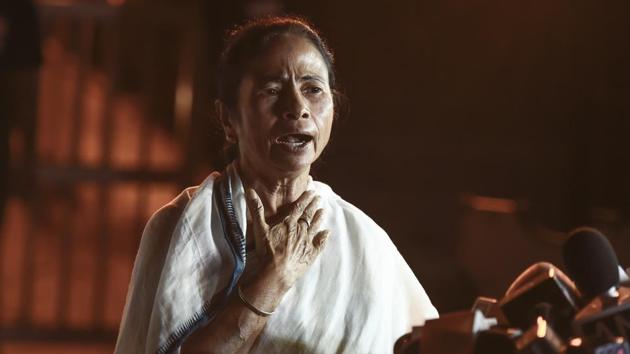 In the publication, the chief minister has claimed that under her leadership the state is a leader in the following disciplines: generation of man-days and expenditure under the '100 Days' Work' scheme, rural housing and rural connectivity, provision for loans for minorities and scholarship for minority students, credit for small and medium enterprises , skill development, ease of doing business and allotment of contracts via e-tenders.
The foreword of "Chronicles of Bengal's Progress -- 7 years", has been written by the chief minister herself. To lend an informal touch, the 63-year-old politician-administrator has signed it as "Mamata" using neither her surname nor designation.
The high-quality prints carry illustrations and pictures of the chief minister's actions in different programmes apart from the international accolades received by her government for various development projects such as the girl child welfare project, "Kanyashree".
"The chief minister has already said that development will be the principal focus of the campaign of Trinamool Congress. This publication is a step in that direction," said panchayat and rural development minister, Subrata Mukherjee.
Opposition parties, however, described the publication as sheer wastage of public money to fund Trinamool's political propaganda. According to CPI(M) central committee member, Rabin Deb, the chief minister is ignoring burning issues such as deaths of farmers, lack of industrial development and rising unemployment. "She is concentrating on her own political mileage. This is nothing but wastage of scarce resources," said Deb.
"The chief minister has become desperate. She has realised that she is fast losing popularity. On the one hand, she is claiming that her government is suffering from a severe cash crunch. On the other, she is encouraging such wasteful expenditure," remarked BJP national secretary Rahul Sinha.
According to the instructions of chief minister, Trinamool Congress is setting up a 40,000-strong cyber army to take on the BJP in the run-up to the general elections. The cell will be headed by party MP and chief minister's nephew, Abhishek Banerjee.
One of the chief assignments of this digital army will be to spread the achievements of the government that have been detailed in the book.