On 'Einstein discovered gravity' gaffe, Piyush Goyal issues clarification
Piyush Goyal's slip up was not lost on the netizens who quickly took to Twitter to point out that gravity was discovered by Isaac Newton and Einstein is credited for his theory of relativity.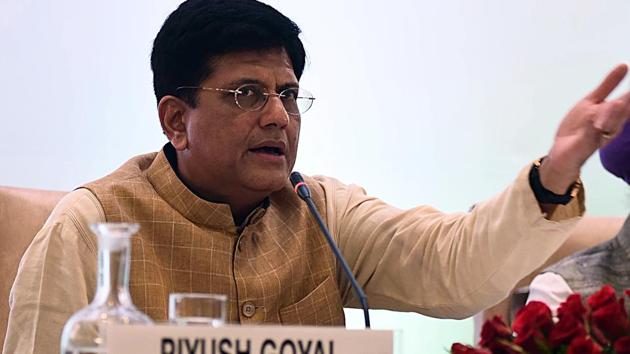 Updated on Sep 12, 2019 09:25 PM IST
Hindustan Times, New Delhi |
HT Correspondent
"Maths never helped Einstein discover gravity," said Piyush Goyal while defending the economic slowdown under Prime Minister Narendra Modi-led NDA government. His inadvertent gaffe, however, didn't take long to go viral on social media and Twitter promptly pointed out that it was Isaac Newton and not Albert Einstein who discovered gravity.
"Do not get into the calculations that you see on television...Oh if you are looking at USD 5 trillion economy, the country will have to grow at 12 per cent, today it is growing at 6-7 per cent. Do not get into those maths. Those maths never helped Einstein discover gravity. If he had only gone by structured formulae and what was past knowledge, I do not think there would have been any innovation in this world," he said at the meeting of the Board of Trade in Delhi.
The minister was quick to issue a clarification that his remarks were taken out of context, and sought to be presented with "very mischievous and baseless narrative".
"There is a very mischievous and baseless narrative sought to be presented about my closing comments at the board of trade meeting this morning. I was making a comment about encouraging Indian industry/Indian business to aspire for a one trillion dollar export target within the next five years and to encourage and enthuse the exporter community," Goyal said in a statement.
The Congress was quick to take dig at the union minister.
Former Union minister Jairam Ramesh and Congress's Pawan Khera also didn't spare Piyush Goyal and took to Twitter to take a jab.
This came just two days after Finance Minister Nirmala Sitharaman suggested that millennials' preference for ride-hailing services such as Uber and Ola was one of the reasons for crisis in the auto sector. Sitharaman said millennials were choosing app-based cab aggregators over spending money on EMIs for new cars had affected the auto sector, which has seen double-digit fall in sales for both two and four-wheeler manufacturers.
The government is under repeated attack from the Opposition over the economic slowdown that is witnessing job cuts across various sectors.
The finance minister, addressing the media on the government's completing 100 days in office on September 10, had passed off the slowdown as part of the cycle and assured that the government was responding to it adequately.
Close Story