Among PM Modi's tips against coronavirus is a 'namaste'
Updated on Mar 07, 2020 01:04 PM IST
PM Modi addresses Jan Aushadhi Yojana beneficiaries via video conference.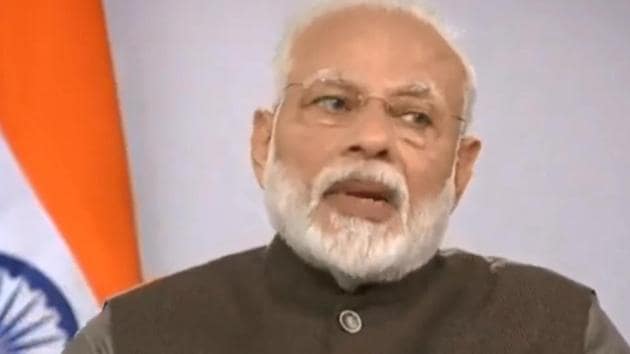 Prime Minister Narendra Modi said on Saturday urged people to get into the habit of greeting each other with a "namaste" instead of a regular handshake as one of the measures to prevent the spread of the deadly coronavirus.
"The whole world is making a habit of namaste. If for some reason we have given up this habit, then instead of joining hands, it is also the right time to reintroduce this habit," the Prime Minister said.
He made the comments during his interaction with people from various Pradhan Mantri Bharatiya Janaushadi Pariyojana Kendras through video conferencing.
Before him, Israeli Prime Minister Benjamin Netanyahu had also encouraged his countrymen to adopt namaste instead of the handshake as a way to stop the spread of coronavirus.
Netanyahu had said on Wednesday simple measures like avoiding the normal handshake while greeting people may possibly be replaced with other forms of greetings like the Indian namaste.
He also showed the way to do a namaste during the press conference.
Prime Minister Modi also asked people not to believe in rumours on things to do and avoid about coronavirus, which has infected 31 people in the country so far.
"During such times, rumours also spread quickly. Some people say you must not eat this and not do that. Some people come up with four new things, saying that coronavirus can be avoided by eating them. We have to avoid these rumours too," the Prime Minister said.
"Whatever you do, do it with the advice of your doctor," he added.
The Prime Minister was interacting with store owners and beneficiaries at selected stores across the country, including Guwahati, Dehradun, Coimbatore.
"The rest of the people in the family are also more prone to infection and in such a situation they should also undergo necessary tests. Such mates should also wear masks, wear gloves and stay away from others," he said.
India's total number of confirmed cases has risen to 31 after a person from New Delhi with a history of travel from Thailand and Malaysia tested positive.
Topics
Personalise your news feed. Follow trending topics