Militants kill soldier in north Kashmir encounter, escape
Another group of militants managed to escape in a second encounter the same morning.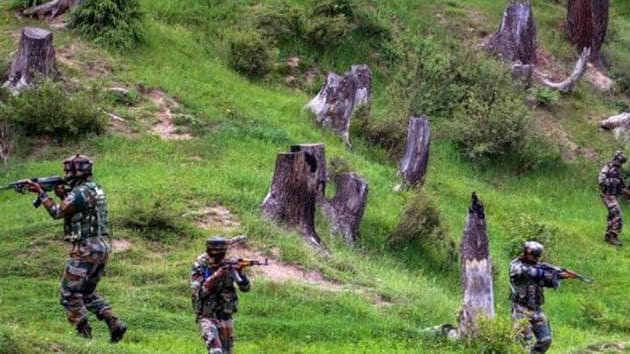 Published on Aug 17, 2018 08:10 PM IST
A soldier was killed in a shootout with militants during a cordon-and-search operation at Rafiabad in north Kashmir on Friday morning. A hunt has been launched for the militants, who managed to escape in the confusion.
Officials said militants opened fire at the Army's 32 Rashtriya Rifles battalion while they were conducting a cordon-and-search operation at Kachlu village on Friday morning. Rifleman Ram Babu Shahi (24), who was injured in the shootout, died in a nearby hospital soon after being shifted there.
"The soldier was killed during an operation in Rafiabad's Kachlu village," an Army spokesperson confirmed.
Shahi was a resident of Chitwan in Nepal. His body has been flown to Varanasi, where he will be laid to rest. He is survived by his wife and daughter.
Encounter in Hajin town
Another shootout erupted between militants and Army personnel during a similar operation in nearby Hajin town in the wee hours of Friday. This mission turned out to be unsuccessful too, with all the militants managing to escape.
According to official sources, residents of the town came out in support of the militants and began pelting security personnel with stones soon after the shootout began. Although police managed to disperse them by firing smoke shells and launching a lathi-charge, the militants managed to escape in the confusion.
Security personnel later called off the operation and restored Internet connectivity in the town.
Hajin has become a hotbed of militancy with many fighters from Pakistan establishing bases in the town and its surrounding areas. Many local youths have also joined their ranks.
According to officials, militants coming from Bandipore, Kupwara and Rafiabad use Hajin town and its villages as a transit point before heading to Srinagar and south Kashmir. A majority of the militants here are believed to be of foreign origin.
Close Story