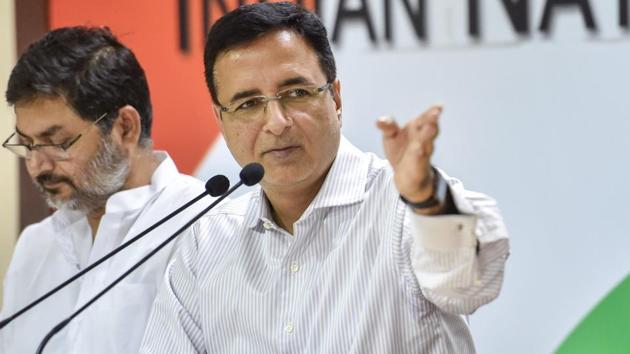 Congress alleges 'smear campaign' against its leaders in AgustaWestland case
Randeep Singh Surjewala alleged that never before in the history of India has a "Prime Minister been found complicit in gaining false evidence" against Congress leaders.
UPDATED ON JUL 20, 2018 01:37 AM IST
The Congress on Thursday accused Prime Minister Narendra Modi and his government of launching a "smear campaign" to tarnish the reputation of its leaders .
"Stunning revelations have blown the lid off the concerted conspiracy, blind vendetta and web of lies woven by the Master of Deception - PM Modi - against the Congress leadership in the AgustaWestland case. Mudslinging, muckraking and hatchet job being enacted by the Modi government and its dirty tricks departments Central Bureau of Investigation and Enforcement Directorate to smear opposition leaders is out in the open for the nation to see and adjudge," Congress' chief spokesperson Randeep Singh Surjewala said.
Surjewala said the statement made by Rosemary Patrizi Dos Anjos, the advocate for accused Christian Michel, who was arrested in Dubai two days ago, and his sister Sasha Ozemen has clearly brought out that the Modi government and its agencies were "forcing him (Michel) to sign a false confessional statement" naming United Progressive Alliance chairperson Sonia Gandhi "in return for complete exoneration from any charge" in the case. He alleged that never before in the history of India has a "Prime Minister been found complicit in gaining false evidence" against Congress leaders.
"This shocking expose is also a testimony to the disease prevailing in CBI and ED of prostrating before the PM to collect false evidence with a single handed aim of tarnishing the reputation of opposition leaders and serving the political masters as a captive puppet and a willing tool of malicious conspiracy," he alleged.
Anil Baluni, Rajya Sabha MP and BJP chief spokesperson, said, "Misusing agencies against political rivals has been Congress culture. This is the reason they fear that agencies are being misused. BJP does not believe in that culture. The Congress has nothing to speak against the BJP government, and hence it is coming out with such bizarre allegations."
Giving details, Surjewala said the undisputed facts in the case are that the UPA government cancelled the contract for supply of 12 helicopters for a total cost of ₹3,546 crore in February 2013, and proceeded to hand over the case to the CBI. To protect national interest, the government proceeded to encase the securities and bank guarantees and recovered an amount of ₹2,068 crore against the original payment of ₹1,620 crore, he added. He claimed that the UPA government also confiscated 3 Agusta Westland helicopters worth ₹886.50 crore. The UPA government effectively recovered nearly ₹3000 crore. In February 2014, the UPA government also initiated the blacklisting of Agusta Westland and its parent company Finmeccanica. They were blacklisted on July 3, 2014, he added.
"On August 26, 2014, the Modi government withdrew the order of blacklisting Finmeccanica/Agusta Westland and permitted them to participate in defence contracts as a 'sub-contractor' and 'defence supplier'. .. In March 2015, surprisingly, Modi government invited Agusta Westland to be part of 'Make in India' and participate in 'Aero India Exhibition'. In April 2015, Modi government permitted Agusta Westland to bid for 100 Navy utility helicopters," he claimed
Close