[
randeep singh surjewala
]
Latest from randeep singh surjewala
Congress had no other option that to replace Amarinder Singh as allowing his to continue in the CM's chair with no MLAs' support would have been termed as a dictatorship, Randeep Singh Surjewala said.

Published on Oct 02, 2021 06:46 PM IST
The Congress also claimed the average hike in MSP is only 3.7 per cent while the inflation rate is 6.2 per cent and there has been an almost 20 per cent rise in input costs and diesel prices.

Published on Jun 11, 2021 01:38 AM IST
Earlier, Karnataka chief minister BS Yediyurappa also tweeted that he has tested positive for the viral disease.

Published on Apr 17, 2021 06:25 AM IST
The Congress responded to the data and said the government spent a lot less than what was needed to revive the Indian economy.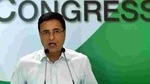 Published on Feb 26, 2021 10:21 PM IST
Edited by Prashasti Singh
, Hindustan Times, New Delhi