PM Modi slams Opposition, praises Nitish for cleanliness drive
The Prime Minister praised Nitish Kumar for working to turn Bihar open defacation free and for building a large number of toilets in a short time.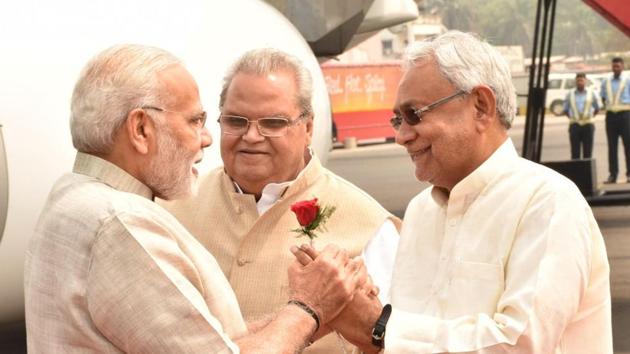 Updated on Apr 11, 2018 07:38 AM IST
Prime Minister Narendra Modi on Tuesday came down heavily on the opposition for trying to stonewall all initiatives of the government while he praised Bihar chief minister Nitish Kumar for his fight against corruption and his efforts in the clean India campaign.
The Prime Minister was here to attend an event to mark 100 years of Mahatma Gandhi's Champaran Satyagrah with an aim to spread the message of Swachh Bharat.
Addressing thousands of Swachhagrahis (cleanliness volunteers) from across the country at the Gandhi Maidan in Motihari, Modi said the culture of 'latkana' (delaying) and 'bhatkana' (misleading) to stall work was over.
He cited the example of the Madhepura electric locomotive factory project, which was approved in 2007 but kept on the backburner. "It was the NDA government, which took up the project proactively and completed its first phase within three years," he said.
He also inaugurated schemes worth Rs 6,000 crore in Bihar. The PM dedicated to the nation the Madhepura electric locomotive factory, laid the foundation stones for the doubling of Muzaffarpur-Sagauli-Valmikinagar railway line and four sewerage projects in Patna, and approved of the renovation of Motijheel in Motihari. He also symbolically flagged off, using a remote device, a 12000 HP freight electric locomotive and the Champaran-Humsafar Express train from Katihar to Delhi.
Modi also announced that the Gram Swaraj campaign would be launched on April 14.He exhorted all MPs, MLAs and other elected public representatives to go to their respective constituencies and sensitise people towards cleanliness and making India open defecation free (ODF).
He also felicitated a few Swachhagrahis including one from Bihar's Nalanda district and another from neighbouring Jharkhand.
Modi also complimented Bihar chief minister Nitish Kumar for his fight against anti-socials and corruption. Without mentioning the RJD-Congress combine, he said the Centre would whole-heartedly support the state in its effort to fight corruption and promote the clean India campaign.
He also appreciated Bihar's effort to construct 8.5 lakh toilets within one week and lauded the leadership of the chief minister and his deputy Sushil Kumar Modi in the state.
Modi expressed optimism that Bihar would be able to catch up with the national average on sanitation even as it was lagging behind at present.
Earlier, PM Modi began his speech in Bhojpuri and spoke about the historical importance of Champaran, where Mahatma Gandhi initiated his satyagraha movement for India's independence on this day in 1917.
Stressing on respect for all, irrespective of caste and religion, Bihar chief minister Kumar said the country would not progress amid tension and confrontation, but did not elaborate.
He said the state has launched a rigorous ODF campaign and would strive to achieve the ODF target by Oct 2, 2019 - the 150th birth anniversary of Mahatma Gandhi.
But that may be a tall order. According to a UNICEF data of 2017-18, only 49.05% of total houses in rural Bihar have toilets. While only 48.72% of the total houses in Bihar (rural and urban) have toilets.
Close Story