Ayushman Bharat launch on September 25, software testing begins in 14 states, UTs
Hindustan Times, New Delhi |
HT Correspondent
Aug 15, 2018 10:40 PM IST
The scheme, which will cover 50 crore Indians, will start on the birth anniversary of Deendayal Updadhyay, PM Modi announced in his Independence Day speech.
Following Prime Minister Narendra Modi's announcement in his Independence Day address that the Ayushman Bharat-National Health Protection Mission (AB-NHPM) will be launched on September 25, pilot tests of the software to register patients, keep records and track transactions began in 14 states on Wednesday.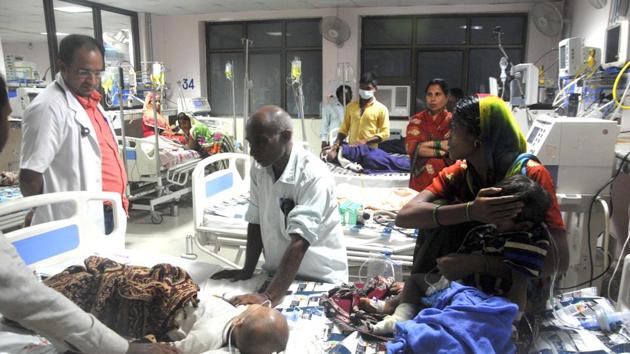 Popularly referred to as Modicare, Ayushman Bharat provides cashless health insurance cover of ₹5 lakh per family per year for hospitalisation to 107.4 million poor and vulnerable families who have been identified using the socio-economic caste census 2011. When fully operational, the scheme is expected to benefit 500 million people.
"The scheme will be launched on September 25, on the day of Pandit Deen Dayal's birth anniversary. No poor will have to suffer because of the high cost incurred during hospitalisations," said Modi, from the ramparts of Red Fort .
Tara Devi from Rudraprayag in Uttarakhand is the first beneficiary to successfully register in what government officials are referring to as the "golden list".
"The first step is to identify the beneficiary and ensure the person in our list is the same person who is eligible to avail of the scheme benefits. After we certify the beneficiary, the system will generate a unique QR (quick response) code and the person will get added to our golden list," said Indu Bhushan, CEO, Ayushman Bharat.
Uttarakhand is among the 14 states and union territories where pilot testing will continue for two weeks. The others are Madhya Pradesh, Chhattisgarh, Manipur, Haryana, Chandigarh, Mizoram, Meghalaya, Nagaland, Himachal Pradesh, West Bengal, Arunachal Pradesh, Daman and Diu, and Dadra and Nagar Haveli.
The software will also maintain patients' records , including details of hospital admission, treatment , medicines prescribed, discharge summary and feedback. Online patient records will make it possible for beneficiaries to be treated across states, irrespective of the state with which they are they are registered.
Each beneficiary will have a ₹5 lakh wallet , with the billing amount getting automatically deducted after treatment. To prevent misuse, a referral from a public hospital is a must for treatment in a private hospital, with uncomplicated surgeries and procedures such as Caesarean sections being done only in public hospitals,
Close to 8,000 hospitals, both private and public, have applied for empanelment over the past month. "We are flooded with empanelment requests, but only those hospitals that fulfil the criteria will be empanelled after a thorough inspection. Government hospitals will also have to apply but for the period of testing they are deemed empanelled," says Bhushan.
Seven states and one union territory are still to agree to roll out the scheme. These are Odisha, Punjab, Tamil Nadu, Karnataka, Kerala, Telangana, the BJP-ruled Maharashtra, and Delhi.
With the PM announcing the launch date, the countdown has begun. "Delhi, Punjab and Odisha we aren't sure of, but the rest should sign up in a week or so. We have just about 40 days to launch the scheme, and we are confident that we will," said Bhushan.