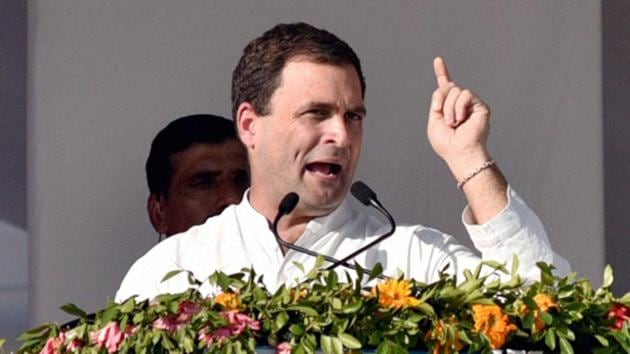 Modi took kickbacks from biz houses as Gujarat CM: Rahul Gandhi
Gandhi's allegation came a week after he said he knew about "personal corruption" by Modi, but didn't reveal details.
UPDATED ON DEC 21, 2016 11:51 PM IST
Congress vice president Rahul Gandhi alleged on Wednesday that Prime Minister Narendra Modi accepted kickbacks from prominent business houses, some during his tenure as Gujarat chief minister.
Gandhi's allegation, questioning the integrity of the Prime Minister who rode to power two years ago promising a corruption-free government, came a week after he said he knew about "personal corruption" by Modi, but didn't reveal details.
"About nine payments were made to Narendra Modi within a span of six months," the Congress leader said at a rally in the Prime Minister's home state that votes for a new assembly next winter.
"This has been noted by the income tax department. Modiji should answer whether it is true or false?"
Speaking in front of a huge crowd in Gujarat's Patidar heartland, he demanded an independent inquiry into income tax papers involving two business houses that allegedly paid Modi.
The response from the BJP was swift. Union minister Ravi Shankar Prasad said Gandhi was trying to divert attention from the AgustaWestland scam during the UPA government.
"The defeated and frustrated Rahul Gandhi is levelling these baseless charges in anger. Names of Congress leaders and his family (members) have cropped up in AgustaWestland probe. It had come up in Italy too. To divert attention from this, he is levelling such false allegations... Narendra Modi is pure like Ganga," Prasad said.
But the Congress kept up the pressure, demanding a fair probe into the allegations. Congress spokesperson Randeep Surjewala said the ruling party was perturbed and "they did not answer whether or not Modi took money".
Gandhi reiterated his charge that the demonetisation move was not a surgical strike against black money, but a "firebomb" for the honest, common people.
He asked the crowd how many of them have received Rs 15 lakh in their bank accounts as promised by Modi during his 2014 election campaign. "No one," the people responded.
Modi had vowed to bring back black money stashed abroad by Indians and called the demonetisation drive a shock therapy to weed out unaccounted-for cash from the economy.
Gandhi asked the government why huge loan defaulters such as Vijay Mallya and Lalit Modi have been let off the hook. Also, he sought to know why the Prime Minister has not taken action against tax dodgers having Swiss accounts, although Switzerland has handed Indian authorities a list.
The Congress leader said the demonetisation exercise was carried out to help public sector banks saddled with loan defaults by "1% rich" people. "When money of 99% poor will remain parked with banks for some months, these will get a chance to recover. PM Modi's aim is to keep your money in banks so that he can waive off rich people's loans."
His choice of venue to accuse Modi of corruption is significant because Mehsana is the protest epicentre of the influential Patidars or Patels, who are demanding reservation in jobs and education.
Thousands of people came from five districts in north Gujarat in buses, utility vehicles and trucks to the town and waited patiently to hear the Congress leader who turned up two hours behind schedule.
"Dalits have been beaten by the Modi government. Patidars protested peacefully. But the government beat up their children and women," Gandhi said.
(With inputs from PTI)
Close