Mother's first miracle: Monica Besra on how she was cured
Miracle woman Monica Besra talks of being cured by Mother Teresa.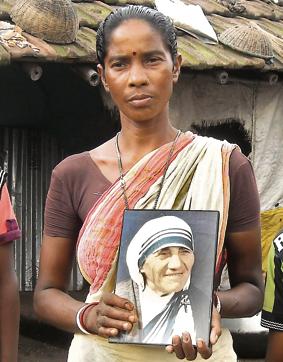 Updated on Sep 03, 2016 07:40 PM IST
"About 15 to 17 years back I developed a tumour in my abdomen. I visited many doctors, underwent a long medication process, but nothing helped. We went to doctors at the nearby government hospital, but the treatment was so expensive that we had to mortgage our land," says Monica Besra (in photo right), now 50, speaking to HT over the telephone from her village in West Bengal's South Dinajpur district.
In 1998, Monica claimed she had been cured after praying to Mother Teresa, thus paving the way for Mother's Beatification. Monica says her sister took her to the recently-opened Missionaries of Charity centre near their village when everything else failed . "I was so ill I couldn't eat anything. I would immediately throw up. The Sisters of Missionaries of Charity even took me to a doctor in Siliguri, but he said I might not regain consciousness if operated upon," remembers the mother of five.
Read: A saint who was more of a mother
Finally on September 4, a day before Mother Teresa's first death anniversary, the Sisters said they were going to Church to pray, recalls Monica. "I was too ill to move, but two Sisters supported me there. There was a photograph of Mother Teresa there. When I entered the Church a blinding light emanated from Mother's photo and enveloped me. I didn't know what was happening. I was too ill to sit for long and was soon brought back to my bed," says Monica, adding, "That night one of the Sisters brought a medallion of Mother Teresa and tied it on my abdomen after saying a prayer to Mother to help me. I had been praying to Mother for a long time. I used to have trouble sleeping because of the pain, but that night I fell asleep. At about 1am I woke up to go the washroom and saw that my stomach was flat and the tumour was gone. There was no pain. I was able to go to the bathroom without help. I was so surprised I woke up the woman in the next bed and told her what had happened. In the morning I told the Sisters," says Monica. After that, Monica says, the Sisters took her to a doctor to get her checked and he confirmed that the tumour was cured.
Read: My tumour vanished with her divine light
"I immediately felt that it was Mother who had cured me," she says. At the time of Monica's claim and the beatification, a doctor who had been treating Monica claimed she had been cured because of the medicines. Kolkata-based Prabir Ghosh, president of the Science and Rationalist Association of India, also challenges the miracle claims and the Canonization. "If people want to rever Mother Teresa for her social work, I have no problem. But these miracles are unreasonable. I challenge the Pope to cure every poor person in India who cannot afford medical care, by praying to Mother," he says.
Read: Mother Teresa's mission survives beyond her life
Read: Ahead of Mother Teresa's Canonization, tracing her journey in Kolkata
Close Story
Personalise your news feed. Follow trending topics