Mukul Roy now threatens defamation suit against Mamata's nephew Abhishek
In reply to Banerjee's legal notice, Roy's counsel on Wednesday said the BJP leader's comment on the ownership of Biswa Bangla and Jago Bangla was misinterpreted to malign him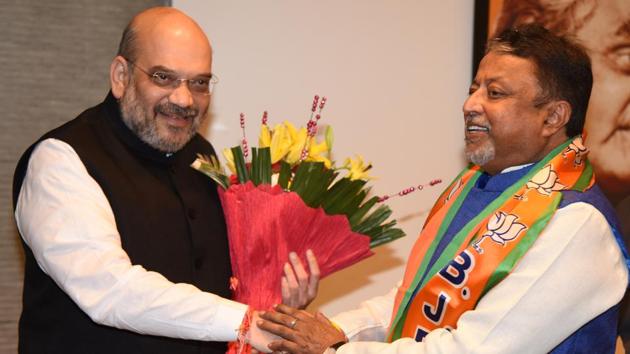 Updated on Nov 15, 2017 10:13 PM IST
It's a cycle of defamation threat against counter-threat in the ongoing war of words between former Trinamool Congress bigwig and BJP's new West Bengal leader Mukul Roy and chief minister Mamata Banerjee's nephew Abhisek Banerjee.
The spat was triggered after Roy in his maiden public rally in Kolkata, after joining BJP, alleged that chief minister's nephew was the actual owner of Biswa Bangla, a state government entity that sponsored the recent Under-17 FIFA World Cup, and TMC mouthpiece Jago Bangla.
Taking serious exception to the charge, Abhisek on Monday threatened to file a defamation case against the BJP leader if the latter failed to apologise for his remarks.
In reply to Banerjee's legal notice, Roy's counsel on Wednesday shot a letter to the young TMC MP saying whatever his client said about the ownership of Biswa Bangla and Jago Bangla on November 10 was misinterpreted to malign him.
Roy stood by what he had said at the public meeting, his counsel said.
The reply sent by Roy's counsel Som Mandal to Banerjee's counsel said: "Not only is your client's conclusion incorrect, baseless and contrary to facts, but your client has deliberately given the alleged meaning and purport to the statements made by our client during the November 10 rally for malafide reasons to suit your client's convenience."
Roy's counsel denied charges that the BJP leader deliberately tarnished the image of Banjeree and sought an apology from Banerjee within a week.
"As of today, as per records available from Trade Mark Registry, 'Biswa Bangla' trade mark and logo has been applied for the first time by your client Abhisek Banerjee under several classes and subsequently by some others, including West Bengal Export Promotion Society of MSME & T, government of West Bengal," Roy's counsel wrote on Wednesday.
"As far as 'Jago Bangla' company is concerned, the name of the company is Jago Bangla Media Pvt Ltd, as detailed in the ministry of corporate affairs website, the registered office of Jago Bangla Media Pvt Ltd is stated to be 30B, Harish Chatterjee Street, which is once again the address of your client," the reply said.
Defending Roy's claim that the owner of Trinamool Congress is Abshishek Banerjee, Roy's counsel said the trade mark and logo of TMC had been applied for in Banerjee's name.
Roy's counsel demanded cancelation or withdrawal of Banerjee's legal notice within seven days and a public notification to that effect.
"In case he fails to do so, we will be forced to take appropriate legal steps, be it criminal defamation or any other step as per law," Mandal told the HT.
Roy resigned from the TMC on September 25, weeks after the Central Bureau of Investigation and the Enforcement Directorate questioned him in the Narada sting case.
The former railway minister was also questioned by the CBI earlier in connection with the multi-crore Saradha chit fund scam.
Close Story
Personalise your news feed. Follow trending topics