Muslim man defies curfew, takes Hindu neighbour's pregnant wife to hospital
Published on May 15, 2019 10:56 PM IST
Putting his life at peril with curfew in force in Assam's Hailakandi, Maqbool took out his auto-rickshaw and drive Rubon and his wife to the hospital.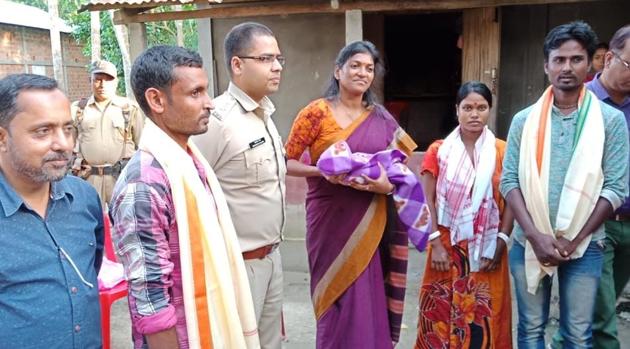 Amid curfew and communal tension is Assam's Hailakandi last week, a Muslim man drove his Hindu neighbour and his pregnant wife to hospital ensuring safe delivery of a baby boy in the nick of time.
The incident, which happened on Sunday, came to light on Wednesday after the Hailakandi district officials learnt about it and paid a visit to the new parents' home.
With curfew in force and his wife Nandita in labour, Rubon Das was worried as there was no ambulance or other services around to take his wife from Rajyeshwarpur village to the SK Roy Civil Hospital in Hailakandi town several kilometers away.
His frantic calls to his near and dear ones seeking help also went unanswered. When Rubon's neighbour and friend Maqbool Hussain Laskar heard the news, he volunteered to take his friend's wife to hospital.
Putting his life at peril with curfew in force, Maqbool took out his auto-rickshaw and drive Rubon and his wife to the hospital.
"Rubon is my fellow villager and his wife was in pain since morning so despite the curfew I decided to risk taking my autorickshaw. We stared at 5 pm. It takes about 20 minutes to reach the hospital from the village. The delivery happened within 10 minutes," Maqbool said.
Timely help by Maqbool helped Nandita to deliver a normal healthy baby boy at around 5.30 pm the same day. A relieved Rubon hugged his friend Maqbool and thanked him. Maqbool, in turn, asked Rubon to thank the Almighty.
Rubon and his wife have named their baby 'Shanti' (Peace) born amidst curfew with the fond hope that he would herald durable peace in strife-torn Hailakandi.
Appreciating Maqbool's help, Bhaskar Das, administrator, SK Roy Civil Hospital, said the incident is a classic instance of Hindu-Muslim unity and brotherhood.
Hailakandi Deputy Commissioner Keerthi Jalli and Superintendent of Police, Mohneesh Mishra visited Rubon's residence on Wednesday and congratulated them.
"It's good to know that the baby boy has been named Shanti. I congratulate Maqbool for his valour and communal brotherhood. We need more such examples of Hindu-Muslim bhai bhai unity and amity," Jalli said.
One person was killed in police firing and 15 others injured in communal violence that started on Friday. While curfew has been relaxed from 7:00 am till midnight, night curfew will remain for few days.
Authorities restored internet services in Hailandi from Tuesday.
Personalise your news feed. Follow trending topics