Muslims wanting Jinnah's photo in AMU insulting their forefathers: VK Singh
Minister of state for external affairs VK Singh said students in favour of Jinnah's portrait in AMU are Indians today because of their forefathers who had rejected the ideology of Pakistan's founder.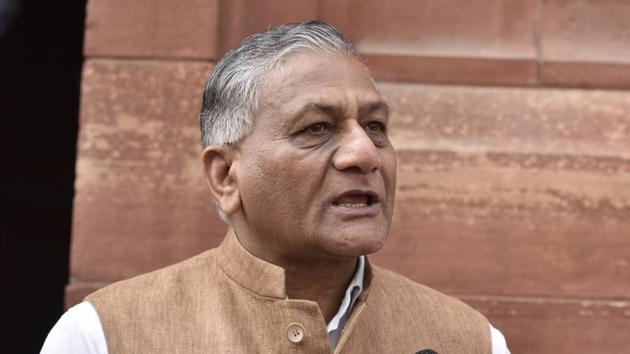 Updated on May 06, 2018 05:49 PM IST
Wading into the Jinnah row, Union minister VK Singh on Sunday said Muslims who support the presence of the Pakistan founder's portrait in Aligarh Muslim University (AMU) are insulting their forefathers, who had rejected his ideology.
"They are Indians today because of their forefathers," the minister of state for external affairs said in a social media post.
A controversy has erupted over the presence of Muhammad Ali Jinnah's portrait in AMU, with BJP leaders demanding that it be removed. A picture of the man responsible for India's division cannot be accepted in a public-funded institution, they say.
Singh said, "If you are not a Muslim but support the portrait's presence because you think that protests against it curbs your freedom, then you should think if you would like on the walls of your house a picture of somebody whose hands are stained with the blood of your own people."
"Without a doubt, freedom is everybody's right. But we tend to forget that how many great people shed their blood in achieving it. Will they be proud today of the manner in which you are using your freedom?" the former Army chief asked in the post titled 'Let us protect our freedom from abuse'.
The minister said, "If you are a Muslim and want Jinnah's portrait on your walls, then this is a huge insult of your forefathers who had rejected his ideology. You are an Indian today because of them."
Apparently addressing AMU students, he said it is one of the leading universities in the country and they (the students) should be aware of the expectations the country has from them.
Singh suggested they have to choose between wisdom and prudence, or narrow-mindedness and extremism.
Violence broke out on the AMU campus on Wednesday as the row over the portrait triggered a right-wing protest, followed by a police lathicharge on protesting students.
Close Story
Personalise your news feed. Follow trending topics