Nagaland: Women's groups backing quota stir sever ties with parent body
Updated on Feb 25, 2017 08:17 AM IST
The Chakesang Mothers Association (CMA), the apex body of women from Nagaland's Chakesang tribe, has dissociated from Nagaland Mother's Association, the organisation which spearheaded the movement for 33% reservation for women in the state.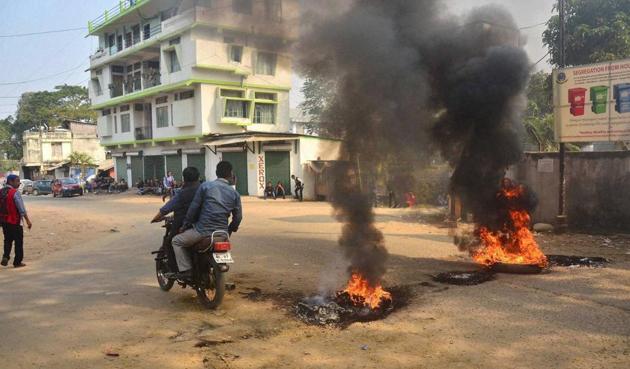 The crisis over women's quota in Nagaland may have been resolved temporarily with resignation of TR Zeliang and swearing in of Shurhozelie Liezietsu as the new chief minister on Wednesday.
But Nagaland Mothers Association (NMA), which spearheaded the movement for 33% reservation for women in urban local bodies (ULBs), is still facing problems.
On Tuesday, a day prior to Liezietsu's swearing in, the Chakesang Mothers Association (CMA), the apex body of women from the Chakesang tribe, dissociated from NMA.
In a press release, CMA president Zaposhelu Venuh said that though they acknowledged and honoured NMA for its work on women rights, they distanced themselves from the organisation due to the crisis related to ULB polls.
Two more women organisations from the Angami and Sumi tribes — Angamimiaphu Mechu Krotho (AMK) and Sumi Totimi Hoho — had also dissociated from NMA in the past three weeks.
The move followed directions from men-dominated tribal organisations opposed to women reservation. Nagaland's 16 major tribes have their own traditional organisations of which the women bodies are part.
"It is due to pressure from our brothers. Those under pressure, dissociated for the time being," said NMA advisor and founder president Sano Vamuzo.
Formed in 1984 to fight against social ills, NMA played crucial role in bringing rebel outfits to peace talks, fought against menace of drugs and stigmatisation of HIV infected people.
According to NMA's constitution, every Naga woman is automatically considered a member. Their efforts have earned the organisation accolades within and outside the state, but their fight for women reservation is opposed by tribal bodies.
Besides asking the women organisations to distance themselves from NMA, tribal bodies had earlier threatened to excommunicate candidates contesting the ULB polls.
There was also pressure on ruling Democratic Alliance of Nagaland (DAN) MLAs to withdraw support to chief minister TR Zeliang, failing which they would have been prevented from visiting their constituencies.
Tribal organisations feel reservation for women will violate provisions of Article 371A of the constitution, which grants special status to Nagaland for preservation of customary laws.
Since women groups led by NMA had filed a special leave petition (SLP) in Supreme Court seeking directions to the state government to hold ULB polls with reservation for women, tribal bodies hold them responsible.
"The NMA can in no way be blamed for the present crisis. As torchbearers for women's rights, it is their bounded duty to strive for what's their constitutional right," said Dr Toshimenla Jamir, head of sociology department in Nagaland University and an expert on gender issues.
Violent protests against the election forced the state government to declare it null and void. The developments also led NMA to file another petition in Supreme Court seeking withdrawal of their SLP.
"These setbacks will not weaken us. We will continue with more conviction. It is a continuous mission and we won't stop," said Vamuzo.
Dr Jamir feels gender sensitisation at the grass roots level and a strong political will policy are needed for women in Nagaland to get their rights.
"Most importantly, enlightened Naga men should speak out for women's rights. History tells us women's rights can't be achieved without the support of men," she said.