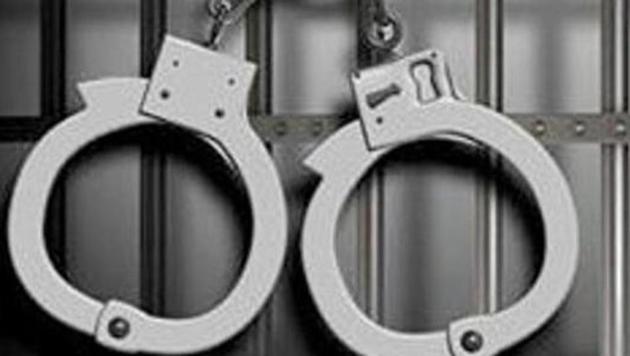 Nagaur police nab aide of Rajasthan's notorious gangster
PUBLISHED ON DEC 27, 2016 05:41 PM IST
The Nagaur police arrested an aide of Rajasthan's most notorious gangster – Anandpal Singh who carries a bounty of Rs five lakh on his head – on Monday night.
Srivallabh, with a Rs one lakh bounty on his head, was one of the two men who had escaped with Anandpal in September 2015 when they were being brought back to Ajmer jail after a court hearing. The police van was attacked by gunmen in two SUVs. The policemen escorting the prisoners were drugged and failed to prevent the gunmen spiriting away the three prisoners.
"Srivallabh was also instrumental in hatching the entire escape plan and since then had been staying with Anandpal in various states such as Haryana and Uttar Pradesh," said superintendent of police Nagaur, Paris Deshmukh.
Deshmukh added that police had been tipped off two days ago about Srivallabh's presence in the area.
"A suspect was spotted near Jaswantgarh who was later identified as Srivallabh. He tried to run after seeing the police but was nabbed by a team of officials," said Deshmukh.
The police said that during interrogation Srivallabh confessed to hiding in Haryana, Uttar Pradesh, and Gujarat and also accompanied the gangster to a few of his hideouts.
"We have informed the Special Operations Group (SOG) and they have sent a team which is interrogating Srivallabh. The SOG will take him to Jaipur," said Deshmukh.
The police said Srivallabh was more like Anandpal's personal assistant. He was also wanted in several cases of theft, burglary, murder and his involvement in the 2014 Bikaner jail firing.
"We believe that Srivallabh has significant information about the whereabouts of Anandpal because he was with him for a long time right from the time of his escape," said additional superintendent of police (SOG) Karan Sharma.
Anandpal, who is charged with multiple cases of robbery, extortion and murder across Rajasthan, is a native of Nagaur district. The 44-year-old has a B. Ed degree.
Close