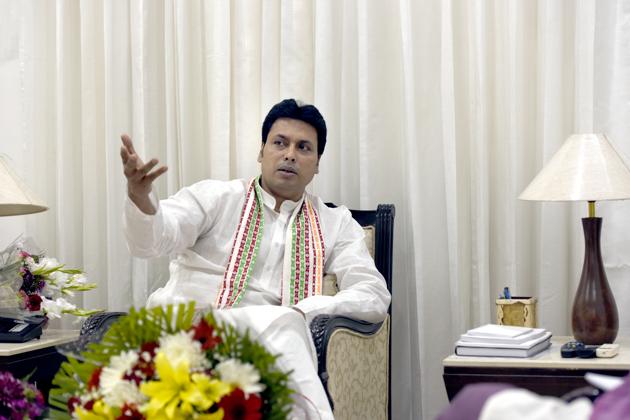 Narendra Modi's brother is an auto-driver, says Tripura CM Biplab Deb
Biplab Deb continues with statements that have drawn ridicule
Hindustan Times, Agartala | By Priyanka Deb Barman
UPDATED ON OCT 01, 2018 05:34 PM IST
No stranger to controversial remarks, Tripura chief minister Biplab Deb has claimed that Prime Minister Narendra Modi's brothers drives an autorickshaw while another is a grocer to underline his point that "poverty is not a curse."
At a function in Agartala on Saturday to mark the second anniversary of the Indian Army's surgical strike inside Pakistan-occupied Kashmir, Deb said although Modi has been Prime Minister for four years and served as Gujarat chief minister for 13 years, his family lives the life of middle-class and his mother stays in a small house and one of his brothers still drives an autorickshaw.
" People at least for once a day should pray for his well-being . He doesn't want anything from them. He never keeps his old mother at his official residence. Even his brother drives an auto and another one is a grocer. Who else is there like him in the country? Even his brothers are so humble," he said.
He further added, "We should learn after seeing him that poverty is not a curse but poor thoughts are. *That's why, he could become Prime Minister despite coming from a poor family."
I also came from a poor family. I might not be wealthy but not poor from heart and that's why people made me chief minister."
A photograph of an auto-driver having facial similarities with Modi went viral two years ago on social media with netizens claiming that he was the PM's brother. Later, it was revealed that the auto-driver has no connection with the Prime Minister.
Last month, Deb claimed ducks can raise oxygen levels in water which can help boost fish production.
In April, he said that the internet was invented lakhs of years ago and that the technology and satellites were present during the period of Mahabharata.
Close