No confidence motion: TDP fields Jayadev Galla, a millionaire CEO, to open attack on Modi government in Lok Sabha
PM Narendra Modi-led NDA government is facing a no-trust motion initiated by TDP in Lok Sabha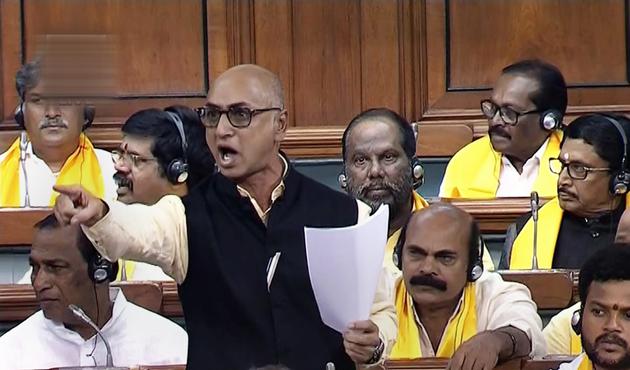 Updated on Jul 20, 2018 06:00 PM IST
The Telugu Desam Party (TDP), which moved a no-confidence motion in Lok Sabha against the Narendra Modi government on Friday, fielded 52-year-old multi-millionaire industrialist Jayadev Galla to spearhead the charge.
The foreign-educated first time lawmaker from Guntur in Andhra Pradesh is the managing director of Amara Raja Group and has been counted among India's best CEOs.
He began his speech with a reference to a Telugu movie and soon started targeting the Prime Minister.
"Mr Prime Minister, do you have any respect for commitments made by your predecessor. How can we function as a nation if we can't believe the word of a prime minister... even in the future?"
"The saga of Andhra Pradesh during the Modi-Shah regime is one of many empty promises," said the TDP parliamentarian, rejecting the government's reasons for not giving the promised financial benefits to his state.
The TDP MP alleged that the BJP happens to be just as guilty of hurting Andhra Pradesh as the Congress was. "It is not a war between the TDP and the BJP. It is a war between majority and morality... it is against Machiavillian politics and authoritarianism," he said.
The US-educated MP reminded Modi that the BJP's 2014 manifesto promised to extend Andhra Pradesh's special category status by five years. "In front of Lord Balaji you promised special status. You asked us to choose Scheme Andhra or scam Andhra. Why should we have confidence and trust in you? BJP would be decimated in Andhra Pradesh if you don't fulfill promises," said Galla.
His first electoral foray was in 2014, when he declared wealth worth over Rs. 680 crore.
The no-confidence motion was moved by three TDP MPs -- Srinivas Kesineni, Thota Narsimham and K Narayana Rao -- who first sent their notices electronically to the Lok Sabha secretariat before noon on Wednesday, then followed it up with formal letters to this effect.
The Chandrababu Naidu-led party, once an integral part of the BJP-led NDA, turned violently critical of the Modi government after the latter went back on several assurances made to Andhra Pradesh ahead of its bifurcation in 2014.
Close Story
Personalise your news feed. Follow trending topics