Not loving thy neighbour: A peek into the mindset of 'nationalist' China-bashers
Oct 31, 2016 02:58 PM IST
A hundred years after Mahatma Gandhi's call for embracing of Swadeshi products, a new version of consumer nationalism has emerged in the Indian imagination.
What the ninth-standard students of Maharaja Harishchandra Inter College in Moradabad district's Macharia village were expecting on the morning of October 14 was a zoology lesson. What they got, instead, was a lesson in the new brand of nationalism. It was only 15 days left until Diwali.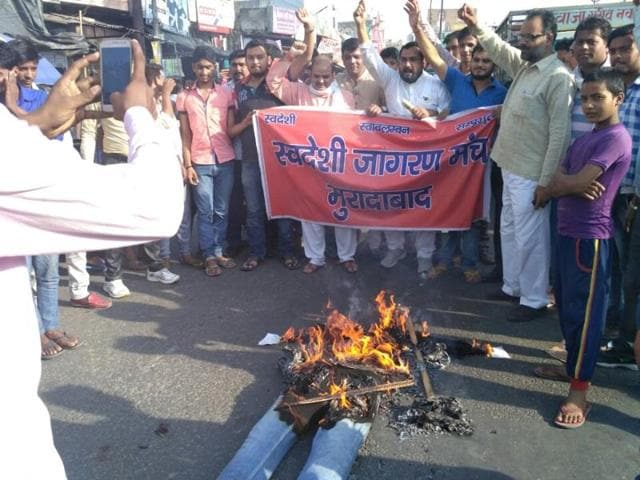 "If a neighbour of ours steals even an inch of our land, he becomes our enemy, we almost want to kill him for it. Tell me, kids, have you heard of China? You know what extent of India's land it has encroached on —-- 38,0000 square kilometre. Are you aware we fought a war with China? Tell me this: if a neighbour of yours gets into a fight with you, steals your land and sets up a shop in the neighbourhood, would you buy things from his shop?"
Read | Make in India ideology takes over Delhi-NCR markets this festive season
A definitive "no" echoes through the classroom. It's not enough to satisfy Rajeev Kumar, a 45-year-old Moradabadi, however. As the convenor of the district's chapter of Swadeshi Jagran Manch, an economic outfit linked with the right-wing Rashtriya Swayamsevak Sangh, his aim is to drill the fear of China into the minds of everyone old enough to enter a shop. So, Kumar goes on for the next 30 minutes attributing all of India's problems-- from the Maoist menace to the mosquito-borne chikungunya -- to the country's biggest rival in the global market.
"Pakistan se bhi khatarnaak jo bharat ka shatru hai, woh Cheen hai. Ye baat jaan lo acchhi tarah se (If India has an enemy more dangerous than Pakistan, it's China. You should know this once and for all)."
A hundred years after Mahatma Gandhi's call for embracing of Swadeshi products, a new version of consumer nationalism has emerged in the Indian imagination. And this time it seems to be a response to different triggers: rising unemployment, falling profits for small and medium businesses, the slowdown of India's manufacturing sector and the threat to its status as an Asian superpower. The new 'nationalist' blames all of India's failures on one villain: China.
Between 2010-11 and 2014-15, China's share in India's import economy swung from 11.8% to 13.5%, according to trade reports. It's currently the largest exporter to India -- of products ranging from socks to smartphones.
"We are not interested in the Mahatma Gandhi way of swadeshi patriotism," says Kishore Dev Mishra, the IT head of the outfit in eastern Delhi. The Swadeshi Jagran Manch has its presence all over the country, with branches spreading along the line of state-district-tehsil-kasba. The so-called Swadeshi movement 2.0 isn't ideological, but economic, Mishra said. "We can't fight against globalisation itself, but we can find a way for our country to stand within the system. How much can you achieve with burning bonfires of foreign goods? We are working on churning Indian society from the inside."
Read | China warns that boycott of its goods will hurt ties, investments with India
Central to this strategy is the mobilisation of anti-China hatred from the ground up. It may seem that these self-proclaimed nationalists are targeting Chinese firecrackers ahead of every Diwali, but their real game plays out in places such as Moradabad in Uttar Pradesh throughout the year. On its frontlines are people of every age and ideology who live in fear of China.
"If the government won't protect our interests, we would have to do it ourselves," says Kapil Naranga, a patron of the so-called Swadeshi movement and the owner of the tyre factory from where the outfit operates. The 29-year-old belongs to a business family that has a good reason to shout slogans against China.
"India has lost between 25% and 30% of its rubber tyre business to China. The irony is they import the rubber from India. Same thing with my brother's toy factory. China has claimed 50% of India's market for toys. They are making everything for kids —-- cars, guns, American superheroes."
It's the same story with Kavya Rastogi, 40, owner of a hosiery factory and a leading member of the movement. "Both India and China buy their material from Malaysia. But China trumps us by buying advanced sewing machines from Japan because their government gives them an interest-free loan to do that. China doesn't have to bother with any guidelines about minimum wages, either. Together it makes up for a 10% gap in manufacturing cost. And then it evades import duty to India by smuggling the socks and undergarments through the Nepal border. Between 2011 and 2016, my factory has seen a 50% drop in profits."
Read | After PM Modi's 'desi Diwali' message, sales of Chinese lanterns dip in Mumbai
A variety of such businessmen came together under the banner of 'concerned citizens of Moradabad' on the afternoon of October 14 to talk about their issues. Also present in the auditorium were luminaries from every field of life in Moradabad: writers, activists, professors, chartered accountants and grizzled freedom fighters.
The event was given a touch of 'inclusiveness' by the representation of every religion: a Hindu saint, a Sufi poet, a pastor and a Sikh philanthropist. "We have to stand together at this difficult time," an Urdu writer said, "...like we did to root out the culture of Valentine's Day from the city. Our youth continues to celebrate it, but not without the fear of repercussion."
Many narrated the history of India-China enmity in varying detail. The brawny leaders of Swadeshi mobs called for a surgical strike. Someone proposed the example of Japan: in the 90s, he said, the resurgent country had retaliated against America's nuclear bombing by rejecting the American import of apples. The next person invited to the podium told the same story, but the fruit had by then transformed into oranges.
At the end, everyone took an oath not to buy Chinese firecrackers this Diwali. They also vowed to further cut down on Chinese products in their daily lives. Life for most of them means never entering a supermarket without the Swadeshi Bible: a pamphlet listing the names of Indian brands in the consumer market. "Bathing soap -- Santoor, Nirma, Mysore Sandal; ice-cream — Amul, Nirula, Mother Dairy; electronics — Videocon, BPL, Onida; men's undershirts: Lux, Rupa, VIP." Every decision is a moral minefield. "You can buy a Micromax phone, but can you ensure that the parts it's made up of are not from China?" Kapil Dev Mishra asked himself aloud in his living room in Burari.
Read | This time, Swadeshi movement against China's anti-India moves
The answer, a young Swadeshi told his compatriots in Moradabad, is to stick to the iPhone. "The Americans may be paying China to produce it, but an Indian buying an iPhone is only paying the Americans." The other way he suggested of dealing the collective consumer guilt was to build an effigy of China and hang it till death in front of the whole town. Someone else at the meeting pointed to the technical improbability of a public execution. Moradabad's young Swadeshis were forced to go with the second-best option: build the figure of a man using bamboo sticks, stuff the frame with straw, dress it in shirt and jeans, carry the effigy to the main market, wrap it with the Chinese flag, light a matchstick and watch it burn.