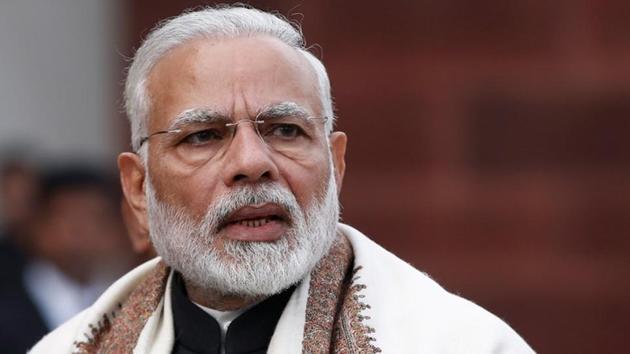 Official's enthusiasm during PM Modi's speech triggers security advisory
The home ministry has been red-flagging the fact that Prime Minister Narendra Modi's tour details are being leaked on social media prior to his visits, posing a major security threat.
UPDATED ON FEB 22, 2018 07:12 AM IST
A government official's enthusiasm at being part of the security detail at an event featuring Prime Minister Narendra Modi has prompted the Ministry of Home Affairs (MHA) to once again remind state governments to maintain the secrecy of classified documents and VVIP programmes.
In an advisory to the governments of states and union territories, MHA says "several instances... of sensitive... documents of classified category circulating on social media have come to notice". It added that "such leakage" could have "serious security implications".
The official in question whose behaviour triggered the advisory (he is mentioned in it, though not by name) , was tasked with performing security duty during the Prime Minister's speech at the Indian Institute of Management in Sirmaur, Himachal Pradesh on November 2, 2017. Much before the speech, the official posted his duty pass on social media raising an alarm within MHA.
Read: Security lapse during PM Modi's visit to Noida on Christmas
According to documents seen by Hindustan Times , this was the third such incident in 13 months.
MHA has been red-flagging the fact that the PM's tour details are being leaked on social media prior to his visits, posing a major security threat. The details of PM's visit are issued by the Special Protection Group. .
In October, Hindustan Times reported an incident dating back to 2016 where minute-to-minute details of a visit made by PM Modi to Madhya Pradesh's Alirajpur district were found circulating on WhatsApp.
Last September, MHA issued a similar advisory, believed to be the second such then.
A senior home ministry official clarified that all necessary precautions that need to be taken to plug such gaps have been taken.
"The security establishment takes all precautions both before and after official visits or in this case public address. Discrepancies such as these are taken noted, examined and appropriate action is taken wherever and whenever it is necessary," this person added on condition of anonymity.
Close