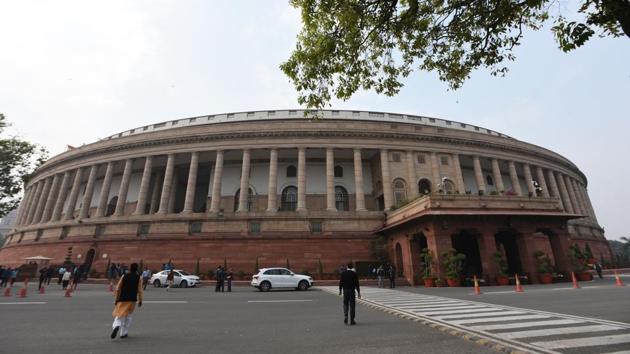 Parliament highlights: Indian Medical Council (Amendment)Bill in Lok Sabha today
Prime Minister Narendra Modi on Monday thanked all the parties for supporting the Jammu and Kashmir Reservation (Amendment) Bill and extension of President Rule in the state by six months.Taking to Twitter, Modi said, "Both Houses of Parliament unanimously passed two important bills pertaining to Jammu and Kashmir. These bills were passed after rich debates, enriched by the participation of MPs across party lines. I thank all parties for their support. Such bipartisan support is gladdening."Indian Medical Council (Amendment)Bill is likely to be taken up for discussion in the Lok Sabha today.Follow highlights here:
UPDATED ON AUG 02, 2019 02:24 AM IST
3:10 pm IST
160 IS members, sympathisers arrested across India: govt tells LS
As many as 160 members and sympathisers of the banned terrorist organisation Islamic State (IS) have been arrested so far from different parts of the country, the Lok Sabha was informed on Tuesday.
Union minister of State for Home G Kishan Reddy said intelligence inputs on terror threats are regularly shared with the state governments and agencies concerned with the advice to take appropriate steps and sensitise their field formations to prevent any untoward incident.
"The National Investigation Agency (NIA) and the states police have registered cases against IS members and sympathisers and have arrested 160 accused so far all over the country," he said replying a written question.
2:52 pm IST
SP member raises lynching issue in Lok Sabha
Muslims in the country are facing problems and several incidents of lynching have been reported in states like Jharkhand, SP member Shafiqur Rahman Barq said in the Lok Sabha on Tuesday.
Raising the issue during Zero Hour, Barq said, "We have to decide how Muslims would live in this country" on account of lynching incidents.
The issue prompted an angry response from BJP members.
Opposition members also stood at their seats as the Lok Sabha Speaker asked another member to raise matter in the Zero Hour.
Mahua Moitra (TMC) said Parliament is becoming a forum to raise West Bengal issues.
2:00 pm IST
In her maiden speech, Sumalatha says Centre must save 'Annadatas'
Actor-turned politician Sumalatha Ambareesh on Thursday delivered her maiden speech in the Lok Sabha in which she pleaded that the Centre must save the 'Annadatas' (food providers).
She brought up the issue of farmers suicide during the Zero hour and urged the Centre and state government to take steps to strengthen existing laws to protect the interests of farmers.
Sumalatha highlighted the issues of water crisis and drought condition in Mandya.
"My region is already suffering from huge water crisis and impending drought conditions. This presents a very bleak scenario for farmers, especially for those sugarcane and paddy growers," said Sumalatha, who pulled off a remarkable win as a BJP-backed Independent candidate against Karnataka's Chief Minister H D Kumaraswamy's son Nikhil.
1:40 pm IST
UP govt order on SC list not proper: Thawar Chand Gehlot
The Centre Tuesday said the BJP- led Uttar Pradesh government's move to include 17 communities belonging to OBCs in the Scheduled Castes (SC) list was not in accordance with the Constitution as only Parliament has the right to do so.
"This is not proper," Social Justice and Empowerment Minister Thawar Chand Gehlot said in the Rajya Sabha after the matter was raised by BSP member Satish Chandra Misra during the Zero Hour.
The Uttar Pradesh government had on June 24 directed district magistrates and commissioners to issue caste certificates to 17 OBCs - Kashyap, Rajbhar, Dhivar, Bind, Kumhar, Kahar, Kewat, Nishad, Bhar, Mallah, Prajapati, Dhimar, Batham, Turha, Godia, Manjhi and Machua.
1:20 pm IST
Sonia Gandhi opposes privatizing of rail production factories
UPA Chairperson Sonia Gandhi on Tuesday accused the Modi government of planning to privatize six rail production units, saying this is a "first attempt" to hand over the country's priceless assets to private hands cheaply leaving thousands unemployed.
Raising the issue during Zero Hour in the Lok Sabha, Gandhi said these included Rae Bareli's Modern Coach Factory. She said the move was against the objectives for which the plant had been set up.
"The real concern is that they have chosen the Modern Coach Factory for the experiment," Gandhi said.
1:00 pm IST
Demand in RS to regulate fake news, indecent language
A demand to frame a law to regulate fake news and indecent language on social media platforms such as Twitter and Facebook was made in the Rajya Sabha Tuesday.
Raising the issue through a Zero Hour mention, Congress leader Digvijaya Singh said communal riots and societal divide is being created by circulation of fake news on social media.
"Studies have shown that fake news is more dangerous than terrorism," he said.
He said lies and indecent language used on Twitter and other social media trigger communal riots and create societal divide.
"Many people (tweeting fake news) are followed by big people," he said without naming anyone.
12:52 pm IST
BSP flays UP govt move to include 17 OBC castes in SC list
The Uttar Pradesh government's move to include 17 communities belonging to the Other Backward Classes in the Scheduled Castes (SC) list is unconstitutional as only Parliament has powers to alter the list, the BSP said in the Rajya Sabha on Tuesday.
Raising the issue through a Zero Hour mention, party leader Satish Chandra Misra said under Article 341 sub clause (2) of the Constitution, the power to make changes in the SC list lies only with Parliament.
"Even President (of India) does not have the power to tinker, alter or make changes (in the list)," he said, adding these 17 castes will neither get benefits meant for OBCs nor SCs since a state government has no power to make any alteration to the SC list.
11:55 am IST
PM Modi, Amit Shah attend BJP Parliamentary Party meeting
Prime Minister Narendra Modi, Home Minister Amit Shah, Defence Minister Rajnath Singh and BJP working president JP Nadda among other senior leaders attended a meeting of the BJP Parliamentary Party on Tuesday.
Union ministers Nitin Gadkari and Prakash Javadekar were also present at the meeting held at GMC Balayogi Auditorium in Parliament Library Building.
11:50 am IST
Bill to amend Dentists Act 1948 to be table in Lok Sabha
Another Bill to amend the Dentists Act 1948 will also be introduced in Lok Sabha today, according to the day's List of Business.
The Bill would help restructure the Dental Councils and the representation of Central government members and elected members would no longer be made mandatory in the Dental Councils, the Union Cabinet had said earlier.
11:30 am IST
Indian Medical Council (Amendment)Bill in Lok Sabha today
The Lok Sabha is likely to pass the Indian Medical Council (Amendment Bill), 2019, which is aimed at bringing in transparency, accountability and quality in the governance of medical education in the country.
Once cleared, the Bill will allow for supersession of the Indian Medical Council for a period of two years during which a board of governors will run the scam-tainted regulatory body for medical education.
The Bill, which proposes to further amend the Indian Medical Council Act, 1956, had lapsed in the 16th Lok Sabha.
11:15 am IST
Debate on poll reforms in Rajya Sabha tomorrow
Debate on poll reforms in Rajya Sabha tomorrow. The motion is backed by 14 opposition parties. After the election, this is the first issue that brings so many opposition parties together.
11: 00 am IST
Parliament proceedings begin
Proceedings in both the Lower and Upper House of the Parliament have begun.
Close