Will stake claim to form govt in J&K with support from Congress, NC: Mehbooba Mufti
Jammu and Kashmir has been under Governor's rule since June after the BJP withdrew support to the PDP and chief minister Mehbooba Mufti resigned.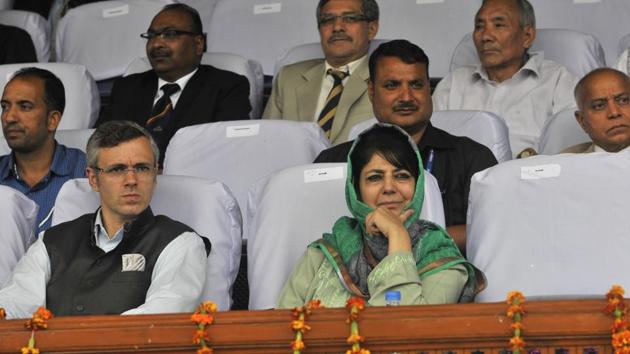 Updated on Nov 21, 2018 08:31 PM IST
Hindustan Times |
Mir Ehsan
A grand alliance is shaping up in Jammu and Kashmir where arch rivals Peoples Democratic Party and National Conference are set to team up with the Congress to stake claim to form the government.
Former finance minister and senior PDP leader, Altaf Bukhari confirming the alliance move said, "My leadership has confirmed it to us that the three parties (Congress, PDP and NC) have agreed to make a coalition to defend the special identity of the state politically and legally. Very soon you will get a good news.''
Another senior PDP leader said, "In the new alliance chief minister will be from the PDP -- Mehbooba Mufti or any other person of her choice.''
The PDP has 28 MLAs, NC 15 and Congress 12, which places them comfortably above the majority mark of 44.
National Conference patron and Srinagar member of Parliament, Farooq Abdullah on Saturday said he was willing to sit down with the Congress and the Peoples Democratic Party (PDP) for government formation in the interest of the people of the state.
Even leader of opposition in Rajya Sabha and former J&K chief minister Ghulam Nabi Azad speaking to reporters said that informal talks are on to explore the new government formation in Jammu and Kashmir.
"The parties (Congress, PDP, NC) felt they should come together and explore government formation in Jammu and Kashmir… we are just discussing a proposal, nothing else," Azad said on the potential alliance.
Highly placed sources told Hindustan Times that senior Congress leaders from the state will be meeting in New Delhi on Friday to discuss this other modalities. "Congress wants that secular forces should come together to save the constitution. Congress is not averse to this idea of new alliance.''
State Congress president Ghulam Ahmad Mir said that the Congress had floated a similar idea in 2014. "It was not given a thought then. It's good, if both NC and the PDP leaders are now discussing this.''
The move comes amid reports of BJP ally Sajjad Lone, chairman of the Peoples Conference, trying to cobble up a third front with the help of the BJP and the PDP dissidents and form a government. The BJP with 25 legislators and the Peoples Conference with 2 are trying to get support from the PDP dissidents to cross the majority mark.
On Tuesday, PDP founding member and Lok Sabha MP from Baramulla, Muzuffar Hussain Beigh dropped hints of favouring a third front and said Lone was like his 'son' and People's Conference like his 'home'.
"I am a friend of his father. I prepared the constitution for the Peoples Conference (PC). I contested the elections and on basis of that, PC got registered as a political party. PC is like home to me and Sajjad is like a son. If Sajjad Lone is interested that there should be a third force, it could be considered. It should be encouraged because people are looking for something new and different.''
When asked whether he will be part of the new front, Beigh said that he would want to see the reaction of the PDP leadership.
The state came under Governor's rule in June, for the eighth time, after the BJP withdrew support to the PDP and chief minister Mehbooba Mufti resigned.
Close Story