'People are watching judges…': Kiren Rijiju amid Centre vs judiciary tussle
Jan 23, 2023 10:05 PM IST
Union law minister Kiren Rijiju's statement comes in the midst of frequent run-ins between the government and the judiciary over the Collegium system.
Union law minister Kiren Rijiju, amid the ongoing tussle between the Centre and judiciary, on Monday said that though judges do not have to contest elections, like politicians, or face public scrutiny, they are under the public eye by way of their actions, their judgments.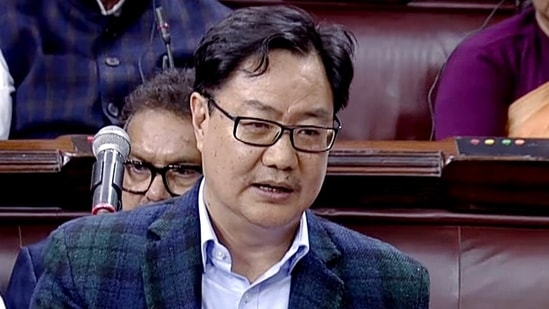 "The people are watching you and judging you. Your judgments, your work process, how you dispense justice... In this age of social media, you can't hide anything," Rijiju said amid applause from the crowd at an event of the Delhi Bar Association.
"After becoming judges, they don't have to face elections or scrutiny by the public... The public is watching the judges, their judgements and the way they deliver justice, and make their assessments...," the law minister said.
Rijiju also said the judiciary and the Centre sometimes have differences. "What is the purpose of democracy if there are no debates and arguments? But some people try to portray that there is Mahabharata going on between judiciary and the Centre but it is not true," news agency ANI quoted Rijiju as saying.
Rijiju's statement comes in the midst of frequent run-ins between the government and the judiciary over the Collegium system. Rijiju recently said said it is the Centre's "bounden duty" to follow the Supreme Court's 2016 order for restructuring the Memorandum of Procedure (MoP) in the appointment of the apex court and high court judges.
Rijiju also said the Centre respects the judiciary as its independence is "absolutely necessary" for a thriving democracy.
Rijiju voiced concern that some are, however, making comments or statements and also adverse remarks in this regard which are only damaging the institution.
He said during the last few days he had seen some remarks made by eminent persons, eminent lawyers and some retired Supreme Court judges whom we expect would make positive contributions to the nation's growth.
On Sunday, Rijiju sought to support the views of a retired high court judge who said the Supreme Court "hijacked" the Constitution by deciding to appoint judges itself.
Rijiju shared the video of an interview of Justice RS Sodhi (retd), a former judge of the Delhi court, saying it is the "voice of a judge" and that majority of people have similar "sane views".
Justice Sodhi said the right to frame laws lies with Parliament and the apex court cannot frame laws as it does not have the right to do so.
The Supreme Court has questioned the government for delay in clearing the appointments of apex court and high court judges.
Recently, the Supreme Court collegium had for the second time reiterated the names of two advocates for appointment as judges of the Calcutta high court "expeditiously", saying it was not open for the government to repeatedly send back the same proposal.