'PM Modi cries not for farmers but when...': Kharge's jibe; 'Like Taliban…'
Jan 19, 2023 03:06 PM IST
BJP in its two-day national executive meet deliberated about elections because they are now scared that Rahul Gandhi is nearing the completion of the Bharat Jodo Yatra, Congress chief Mallikarjun Kharge said.
Congress chief Mallikarjun Kharge on Thursday came down heavily on PM Modi in his public address in Punjab and said PM Modi's eyes become moistened not seeing the plight of the farmers of the country but when a Congress person leaves our party and goes to him. "I don't want to name anyone but everyone has seen," Mallikarjun Kharge said without naming Ghulam Nabi Azad. In 2021, PM Modi teared up during Ghulam Nabi Azad's farewell in the Rajya Sabha as Modi recalled the 2006 grenade attack in Kashmir in which several people from Gujarat were attacked. Narendra Modi, the then chief minister of Gujarat, had spoken to Ghulam Nabi Azad, then CM of Jammu and Kashmir. While PM Modi's tears in the Rajya Sabha became the subject of discourse later as Ghulam Nabi Azad left the Congress, Mallikarjun Kharge made an indirect reference to that.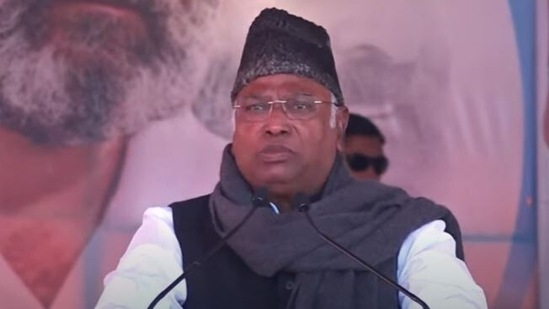 "The massive success of the Bharat Jodo Yatra has scared the BJP, the party which only focuses on winning elections. Their politics is not for the development of the country," Kharge said adding that BJP in the two-day national executive meeting did not discuss the issue of national security but started preparing for the elections. Referring to the row over his 'Raavan' comment, Kharge said, "I wanted to tell something but I am in two minds whether I should say this or not. Because when I tell stories that BJP and RSS write in their books, they say Kharge called Modi Raavan. So I am not going into that."
'Chor kahun…daku kahun': Kharge
"Shall I call BJP a thief or a dacoit? They stole six states which gave us the mandate. They have the power plus they have ED. And they will continue doing the same in the coming days," Kharge said in his speech.
'Like Taliban, RSS and BJP are…'
"Be it in Manu Smriti or the RSS, women have no place in these ideologies. I was watching a video of the Taliban suppressing women denying them education. Our situation was also like that. And today, RSS and the BJP are trying to bring back the same situation. You have to stop that. You have to save democracy and the Constitution," Mallikarjun Kharge said.