'Gandhi emphasised on real power of democracy': PM Modi at United Nations
Hindustan Times, New Delhi |
HT Correspondent
Sep 25, 2019 08:52 PM IST
"Paying tributes to the great Mahatma Gandhi! In a short while from now, a programme on 'Relevance of Mahatma Gandhi in the Contemporary World' will be held at the @UN," PM Modi tweeted.
Prime Minister Narendra Modi paid tribute to Mahatma Gandhi in a talk — Relevance of Mahatma Gandhi in the contemporary world — held at the United Nations on Wednesday. The event at the UN celebrates Mahatma Gandhi's 150th birth anniversary and marked the synergy between Gandhian values and vision of United Nations.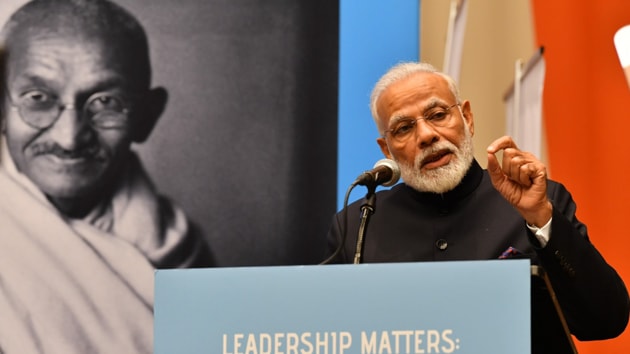 "I'm extremely grateful to the United Nations (UN) for this programme & issuing a special commemorative stamp to mark the 150th birth anniversary of Mahatma Gandhi," PM Modi said, talking at the event marking Mahatma Gandhi's birth anniversary and celebrating his vision.
Here is the full text of PM Modi's speech at the United Nations:
"Gandhiji was Indian, but he belonged not just to India. Today this platform is a living example of this. The people whom Gandhiji never met were also greatly influenced by his life. Whether it was Martin Luther King Jr. or Nelson Mandela, the basis of their ideas was Mahatma Gandhi and Gandhiji's vision.
Today the definition of democracy has a limited meaning that the people should choose the government of their choice and the chosen government should work according to the expectations of the people.
But Mahatma Gandhi had emphasised on the real power of democracy. He showed the direction in which people should not depend on governance and become self-reliant.
Mahatma Gandhi pioneered a social system that did not depend on the government. Mahatma Gandhi brought change, it is well known, but it is also fair to say that he awakened the inner power of the people and awakened them to bring change.
Had Gandhi not been responsible for the freedom struggle, he would have gone ahead with the basic elements of Swaraj and self-reliance. This vision of Gandhiji is becoming a great medium to solve big challenges facing India today.
In the last 5 years, we have prioritised public participation. Be it Swachh Bharat Abhiyan, Digital India, people are now leading these campaigns themselves.
Gandhiji never tried to make an impact from his life, but his life became the cause of inspiration. Today we are living in the era of 'How to Impress' but Gandhiji's vision was- 'How to Inspire'.
Friends, this commitment to principles drew Gandhi's attention towards seven distortions that everyone should be aware of, and all these seven things are still relevant and will be relevant in the times to come.
Those seven principles are wealth without work, pleasure without conscious, knowledge without character, business without ethics, science without humanity, religion without sacrifice and politics without principle.
Whether it is climate change or terrorism, corruption or selfish social life, these principles of Gandhiji act as a guide to protect humanity.
I believe that this path shown by Gandhiji will prove to be a motivator in building a better world. I understand that as long as this flow of thoughts of Gandhiji with humanity continues, Gandhiji's inspiration and relevance will also remain among us."
PM Modi and other leaders also launched a United Nations (UN) postage stamp of Mahatma Gandhi, at the programme 'Relevance of Mahatma Gandhi in the Contemporary World' at the UN headquarters, news agency ANI reported.