PM Modi's call to Saudi King helped India's 'Operation Rahat' in Yemen: Swaraj
External affairs minister Sushma Swaraj gives a blow-by-blow account of how the 'Operation Rahaat' in Yemen was successfully carried out.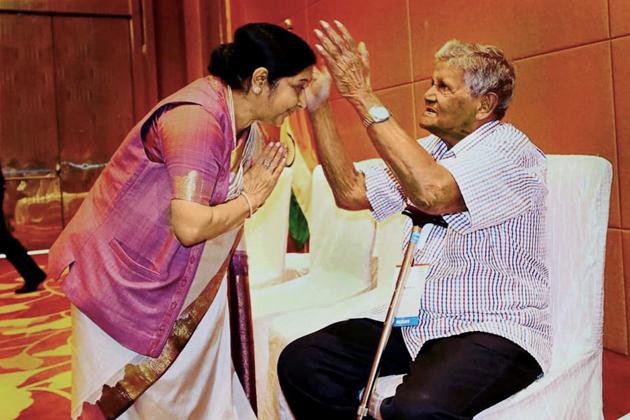 Updated on Jan 09, 2018 01:07 PM IST
Press Trust of India, Singapore |
, Singapore
Press Trust of India
One direct phone call from Prime Minister Narendra Modi to Saudi King in 2015 turned out to be a decisive game changer and facilitated a massive evacuation of Indians and foreigners stranded in war-torn Yemen, external affairs minister Sushma Swaraj said on Sunday.
'Operation Rahat' was launched by Indian Armed Forces to evacuate more than 4,000 Indian citizens and other foreign nationals from Yemen during the 2015 military intervention by Saudi Arabia and its allies. The 11-day evacuation by sea started on April 1, 2015 from Aden port.
Addressing the Indian diaspora at the ASEAN-India Pravasi Bharatiya Divas (PBD) here, Swaraj said that relentless Saudi bombing of Yemenese locations had made evacuation of Indian civilians next to impossible.
She gave a blow-by-blow account of how the 'Operation Rahaat' in Yemen was successfully carried out.
Swaraj said that she approached Modi and suggested that the excellent rapport he enjoyed with Saudi King (Salman) be put to good use.
Modi then made a direct phone call to the King in Riyadh, requesting a safe passage for Indian nationals and evacuation efforts and sought a halt in bombings for a week, she said.
According to Swaraj, the Saudi King replied that India's request was too important to be ignored but also expressed his inability in bringing about a total halt to the bombings.
The Saudi King, due to the friendship with Modi, agreed to halt bombings between 9 AM and 11 AM daily for a week, the minister said.
Seizing the opportunity, Swaraj claimed that she requested the Yemenese authorities to open their Aden port and airport in Sanaa, so that civilians could be evacuated to Djibouti with alacrity for two hours daily for a week.
"Yemenese told me they will do anything for the Indians," Swaraj said, addressing the gathering of over 3000 people, mostly belonging to the Indian diaspora, in the presence of Singapore Deputy Prime Minister Teo Chee Hean.
This coordination set in motion a critical evacuation exercise of not only 4,800 Indians but also 1,972 people from other countries in 'Operation Rahat' which was led from the front by Minister of State for External Affairs and former army chief General (retired) VK Singh, she added. PTI GS CPS
Close Story
Personalise your news feed. Follow trending topics