Modi to Muslims: 'Triple talaq shouldn't be seen from political prism'
In the eyes of detractors, 'triple talaq' represents the worst excesses of an archaic system tilted against women but successive governments have backed away from initiating sweeping changes for fear of upsetting crucial vote banks.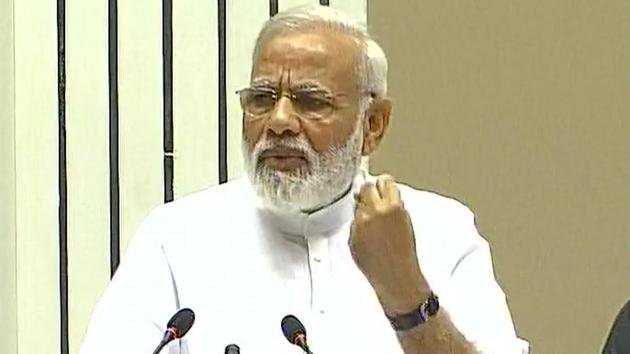 Updated on May 03, 2017 12:08 PM IST
Prime Minister Narendra Modi urged Muslims on Saturday to keep the debate over triple talaq away from politics, saying that he hoped efforts to reform the controversial Islamic practice will come from the community.
"I am sure enlightened people will emerge from among Muslims and come forward to end this practice, liberating our Muslim daughters and mothers from the scourge," Modi said at a function to celebrate the life of 12th century social reformer and Kannada philosopher Basaveswara.
"Come out and find a solution. That solution will have its own majesty and generations will remember you."
This is the second time in a fortnight that Modi has reached out to Muslim women. In October too, he criticised triple talaq, saying the practice was destroying Muslim women's lives.
In his 38-minute speech, Modi called upon India's Muslims to show the "path of modernity" to Muslims across the world. "That is the kind of power and energy this land gives to all of us."
Triple talaq refers to the Islamic tradition that lets men divorce women by pronouncing talaq thrice.
India has separate sets of personal laws for each religion governing marriage, divorce, succession, adoption and maintenance. While much of the Hindu law overhaul began in the 1950s and continues, activists have long argued that Muslim personal law has remained mostly unchanged.
The Modi government has said it wants to replace the triple talaq divorce and other Islamic personal laws with a new uniform civil code applicable to all religious groups. That proposal has met stiff opposition from Muslim groups, who argue that it would discriminate against them.
But about two dozen Muslim women's groups have in recent years mounted legal challenges to triple talaq, which they say discriminates against them and violates their human rights.
A five-judge constitution bench of the Supreme Court will begin hearing daily from May 11 petitions challenging the validity of triple talaq.
Modi also used Saturday's address to reiterate his government's 'Sabka Saath Sabka Vikas' policy, and drew parallels with Basaveswara's philosophy.
"People should get homes, access to power without discrimination. Farmers should get fertilisers and insurance benefits without any distinctions. That is the meaning of our government's message of 'Sabka Saath Sabka Vikas'," he said.
The PM's decision to attend the Basava Jayanti celebrations is significant against the backdrop of next year's elections in Karnataka. Basaveswara, also known as Basavanna, is a powerful icon of the Lingayat community in the state.
Lingayat leader BS Yedyurappa is the BJP's face in Karnataka, where it hopes to wrest power from the Congress in the elections due for 2018. The party is beset with problem in the state.
Close Story