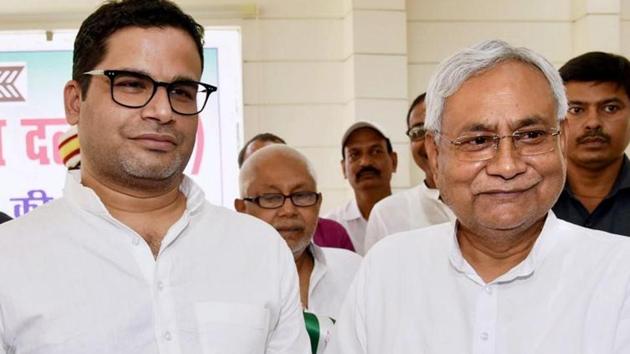 JD(U) rejects Lalu Prasad's claim that Nitish Kumar wanted to leave NDA
Nitish Kumar had severed his ties with the Grand Alliance in July, 2017, less than two years after his partnership with arch rival Prasad and the Congress succeeded in delivering a crushing defeat to the BJP-led NDA in the assembly polls.
UPDATED ON APR 28, 2020 12:57 AM IST
Poll strategist turned politician Prashant Kishor on Friday dismissed as "bogus" a reported claim by Rashtriya Janata Dal (RJD) chief Lalu Prasad that Bihar chief minister Nitish Kumar had sent him feelers via Kishor seeking to return to the Opposition alliance in late 2017.
Reacting to excerpts from a yet-to-be-released autobiography of Prasad, Kishor — now the Janata Dal (United) national vice-president — tweeted: "The claims made by Laluji as reported are bogus. This is nothing but a poor attempt [at] seeking relevance by a leader whose best days are behind him.
"Yes, we did meet many times before I joined JD(U), but if I were to tell what all was discussed then he would be quite embarrassed."
Kishor, who had worked with Kumar and Prasad as a strategist during the 2015 Bihar assembly polls, also shared the excerpt published in an English daily on Friday. The excerpt quoted the RJD chief as having said, "Kishor seemed to indicate that if I were to assure in writing my party's support to the JD(U), the latter would pull out of the BJP alliance and rejoin Mahagathbandhan (the grand alliance).
Kumar had severed ties with the grand alliance in July 2017, less than two years after his partnership with arch rival Prasad and the Congress crushed the National Democratic Alliance in the assembly polls.
The chief minister, apparently embarrassed after his then deputy Tejashwi Yadav got embroiled in a corruption scandal, stepped down in a sudden move. But he was sworn in as chief minister less than 24 hours later as the BJP came forward with support.
WATCH: 'Nitish Kumar made many attempts to rejoin grand alliance': Tejashwi Yadav
Tejashwi, now the Bihar leader of Opposition, on Friday backed Prasad's claims. "Nitish Kumar sent messages to my father, to me and various Congress leaders with a slew of deals within six months of allying with BJP. Does Kishor meet anyone without an agenda?" he asked.
JD(U) spokesperson Rajiv Ranjan said, "People read biopic to know the truth. But this is turning out to be another bundle of lies of Lalu."
Close