Pour me another: India's alcohol intake up 38%
May 09, 2019 08:44 AM IST
Consumption is projected to reach 7.6 ltr per adult by 2030, the highest rise being forecast in middle-income countries such as China, India, Vietnam and Myanmar, the medical journal said.
Indians are drinking more than ever before, with the annual per capita alcohol consumption going up by 38% in seven years to 5.9 litres (ltr) in 2017, up from 4.3 ltr in 2010, according to a new study on harmful alcohol use in 189 countries.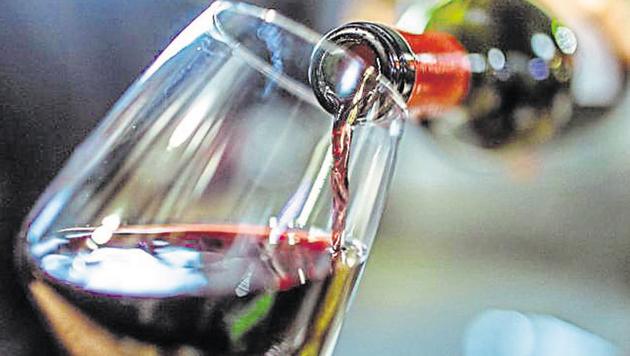 Globally, alcohol intake increased from 5.9 ltr per adult per year in 1990, to 6.5 ltr in 2017, and the total volume of alcohol consumed per year went up by 70% — from 20,999 million ltr in 1990 to 35,676 million ltr in 2017, said the report published in The Lancet.
Consumption is projected to reach 7.6 ltr per adult by 2030, the highest rise being forecast in middle-income countries such as China, India, Vietnam and Myanmar, the medical journal said. People who had never had alcohol fell from 46% in 1990 to 43% in 2017, while current drinkers went up from 45% in 1990 to 47% in 2017.
"Rising incomes in a large part of the population play a key role, while affordability is probably the most important factor for trends in consumption... This trend will continue up to 2030 when Europe is no longer predicted to have the highest level of alcohol use," said lead author of the study Jakob Manthey from the Institute of Clinical Psychology and Psychotherapy in Dresden, Germany.
Aggressive marketing and promotion by the alcohol industry, lax regulation, low health literacy on alcohol-related harm in the general population, and political dependence on excise revenue drives the liquor trade in many developing countries.
The sociodemographic factors that are playing a role in rising consumption in Asia are changing social norms that make it easier for both young men and women to drink, and higher life expectancy that increases the years of drinking among consuming adults, which raises gross national consumption.
An estimated 2.3 billion people are current drinkers worldwide, according to the World Health Organization's Global Status Report on Alcohol and Health 2018. Alcohol is a major risk factor for disease, and is causally linked to over 200 diseases and injuries, leading to 3 million deaths (5.3% of all deaths) worldwide in 2016.
"Rising levels of per capita alcohol consumption do not bode well for India, as it raises the risk of many non-communicable diseases like cancers, road traffic accidents, domestic violence, mental health disorders and social conflict.
Increased uptake of dinking among the youth and binge drinking among adults are both public health challenges that must be overcome with a strong political will that combines increased taxation, and strict enforcement of laws with widespread health education," said Dr Srinath K Reddy, president, Public Health Foundation of India.
Worldwide, alcohol-related deaths accounted for 7.2% of all premature (among persons 69 years of age and younger) deaths, with the leading causes being injuries (28.7%), digestive diseases (21.3%), cardiovascular diseases (19%), infectious diseases (12.9%), and cancers (12.6%).
Since the price of alcohol and the availability are important drivers to consumption, policies that affect both lower intake. "Price can be impacted by taxation increases (and parallel measures to reduce illegal alcohol). As for availability, alcohol is very easily available in most parts of India (except, of course, the prohibition states, where it is still available, but not easily), and this could be restricted," said Manthey.
Moldova has the highest alcohol intake (15 litres per adult per year), while Kuwait has the lowest (0.005 litres per person per year).
Alcohol intake grew in low- and middle-income countries, while the total volume of alcohol consumed in high-income countries has remained stable or dropped substantially, notably in Europe. Between 2010 and 2017, the highest increase was in Vietnam, where per capita intake went up 90%, from 4.7 ltr to 8.9 ltr. In the other end of the spectrum, Azerbeijan recorded an 82% decrease in alcohol use.
Europe recorded a 12% drop (11.2 ltr to 9.8 ltr), mainly due to decreases in Azerbaijan, Kyrgyzstan, Ukraine, Belarus, and Russia, which recorded a 22% (15.8 ltr to 12.3 ltr) reduction. "Russia successfully managed to lower alcohol consumption using several measures over the past years, such as restriction of availability (eg, alcohol only available off premise between 9 am and 8 pm); increasing the price via multiple taxation increases, especially for spirits; a ban on advertisement and marketing of alcoholic beverages; minimum unit price (ie, no alcohol can be sold under a threshold price); and measures to reduce illegal alcohol," said Manthey.
There was a slight drop in the UK (12.3 to 11.4 litres), but consumption went up slightly in the United States (9.3 ltr to 9.8 ltr) and China (7.1 ltr to 7.4 ltr)
Projections show that by 2030, half of all adults will drink alcohol, and close to a quarter (23 %) will binge drink at least once a month.
If current trends continue, the world will not meet the WHO's target of reducing harmful use of alcohol by 10% by 2025. "To achieve global targets to reduce harmful alcohol use, the authors call for effective policy measures such as the WHO best-buys, including increasing taxation, restricting availability, and banning alcohol marketing and advertising, to be introduced globally, especially in rapidly developing countries with growing rates of alcohol use," Manthey said.