Protests over MPs' suspension: Opposition sees little hope of resolution
On Friday, Naidu called a senior Congress leader and asked him to try to find a solution to the ongoing impasse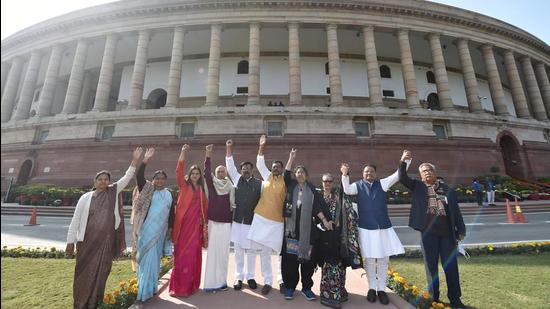 Updated on Dec 18, 2021 02:26 AM IST
The winter session of Parliament has seen many disruptions arising from the suspension of 12 Rajya Sabha members for their alleged behaviour on the last day of the monsoon session. According to people familiar with the matter, with the government continuing to insist on an apology from them, opposition ranks not able to agree on the language of a statement describing the incidents of the last session, and negotiations between the parties and the Rajya Sabha chair going nowhere, there's little chance left for resolution.
There are four days left in the winter session of Parliament.
On the afternoon of November 29, the first day of the session, the Rajya Sabha passed a resolution to suspend 12 Opposition MPs for their "unprecedented acts of misconduct, contemptuous, unruly, and violent behaviour and intentional attacks on security personnel". The decision triggered protests and disruption became a regular feature of the Upper House barring two days, December 9 and 10, following the death of CDS Bipin Rawat and 11 other officers of Indian armed forces.
While the impasse continued, and senior Opposition leaders such as Leader of the Opposition Mallikarjun Kharge, DMK's Thiruchi Siva and RJD's Manoj Jha made repeated appeals for the revocation of the suspension in the House, back-room negotiations began in the Opposition ranks and with the government.
One initial response considered by the opposition parties was a boycott. "The initial plan of boycott found no support from DMK and CPI(M). Even Trinamool Congress emissaries told us that they won't support boycott. Congress president Sonia Gandhi was appraised of the situation and she concluded that boycott would give the BJP a free hand," said a senior Congress leader who asked not to be named.
Then came an effort to find a solution. Congress chief whip in Rajya Sabha Jairam Ramesh met CPI(M) general secretary Sitaram Yechury on December 7 at the latter's headquarters. The two leaders discussed a draft that included the term "unfortunate and regrettable incidents".
The draft was discussed with CPI's Binoy Viswam and DMK's Thiruchi Siva. It was planned that if approved, a senior leader would make a speech on behalf of all parties. But while all leaders maintained that they did not have a problem with the word "unfortunate" the term "regrettable incidents" left many uncomfortable. The result? The plan was junked "Jairam came with a piece of paper. But we found it unacceptable," said Yechury.
Seven days later, on December 14, Congress president Sonia Gandhi called a meeting with Nationalist Congress Party leader Sharad Pawar, DMK leader TR Balu, Yechury, National Conference leader Farooq Abdullah and Shiv Sena leader Sanjay Raut. Congress leader Rahul Gandhi, Kharge, and Congress general secretary (organisation) KC Venugopal were also present at the meeting.
At the meeting it was decided that both Pawar and Kharge should meet Rajya Sabha chairman Venkaiah Naidu and urge him to call an all-party meeting. During the discussion, Yechury chipped in and added that Naidu should also be reminded how his predecessor Hamid Ansari used to call all party leaders to resolve logjams. According to a second Opposition leader, Pawar called Naidu the following morning. Naidu told Pawar that he was most welcome but that he could not assure him of reaching a resolution, said a senior Rajya Sabha official who asked not to be named.
Hours later, instead of Pawar, a group of four senior leaders led by Kharge met Naidu . As the Opposition leaders appealed to Naidu to take inspiration from his predecessors, the chairman reminded them that there had been "no indication yet of any regret from the suspended MPs".
The meeting ended abruptly.
On Friday morning, Naidu called a senior Congress leader and asked him to try to find a solution to the impasse.
Hours later, Kharge, Jairam and parliamentary affairs minister Pralhad Joshi met at Naidu's chamber but the minister again insisted on "some sort of an apology" from the 12 MPs, according to two parliamentary functionaries. As the meeting ended without any solution, Ramesh , according to a functionary , told Naidu: "You can hold an all-party meeting at your grand daughter's wedding reception on Monday where all party leaders would be present." Everyone laughed.
Close Story
Personalise your news feed. Follow trending topics