After sharp attack on PM Narendra Modi, Rahul Gandhi's hug and a wink
Updated on Jul 20, 2018 05:18 PM IST
Congress president Rahul Gandhi targeted the NDA government and accused Prime Minister Narendra Modi of facilitating monetary benefits for "his businessmen friends", then went on to surprise everybody by hugging Modi.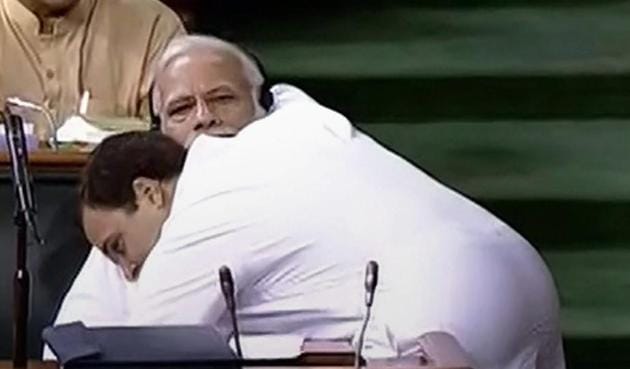 Rahul Gandhi made an aggressive attack on the BJP-led central government during a debate on a no-confidence motion in the Lok Sabha today, peppering his hour-long speech with constant barbs at Prime Minister Narendra Modi, who, he alleged, "cannot look me in the eye." PM Modi smiled and looked straight at Gandhi.
Modi was also seen laughing during Gandhi's speech, which was interrupted by the protests of an angry treasury bench, leading to an eight-minute adjournment of the house, the first today. Gandhi ended his speech by saying, "I have not an iota of hatred or hard feelings against you. You hate me, I may be Pappu for you. But I love you and respect you because I am the Congress." He then walked over to the Prime Minister and hugged him.
Modi, clearly taken aback initially, called Gandhi back and shook hands with him, also patting the 48-year-old Congress chief on his back. The two leaders exchanged a few words.
Gandhi spoke third in the debate, supporting the no-confidence motion against the Modi government moved by the BJP's recently estranged ally, the Telugu Desam Party. The TDP, he said, is "a victim of the BJP's political weapon called 'jumla (gimmick) strike'."
The Congress leader brought up demonetisation, GST, farmer issues and also spoke at length about the Rafale deal, alleging, "Rafale (fighter aircraft) cost 520 crore during UPA rule. Don't know whom Modi spoke to, but by magic the price went up to 1,600 crore. Defence minister Nirmala Sitharaman cited a secrecy pact to not reveal the price. I met the French President and he said that there is no such pact of secrecy. He said you can say this to India. Under Modi's pressure, Nirmala Sitharaman has said untruth."
An angry Sitharaman wanted to reply and Sumitra Mahajan assured her that she would be given a chance to speak as soon as Gandhi's speech was over.
Amid loud protests, Gandhi also said, "Everyone understands the relationship PM has with certain people. Everyone can see, the amount of money that goes into PM's publicity. One of those people was given Rafale contract. The contract was taken away from HAL. The gentleman benefited 45,000 crore. PM must say, why contract taken away from HAL. Why was a businessman favoured?"
Attacking Modi over foreign policy, Gandhi referred to the Chinese President Xi Jinping's visit to Ahmedabad in September 2014, alleging, "The PM and the Chinese president sat on a swing on the banks of the river. The Chinese president goes back and the Chinese troops come to Doklam. After a few months, Modi goes to China for talks without any agenda but bypasses the Doklam issue."
He also accused the Prime Minister of waiving off loans worth Rs 2.5 lakh crore for big industrialists. "But he can't waive off farmer's loans because they don't wear suit and boot even though they have given votes to the PM," he said.
Prime Minister Modi is scheduled to reply to the debate at 6 pm today. His government has the numbers to defeat with ease, the first no-confidence motion his four-year-old government has faced, but the BJP, which leads the ruling National Democratic Alliance wants to win two thirds of the vote in a show of strength.
Close Story
Personalise your news feed. Follow trending topics