Ram Rahim sentencing: Our stand vindicated, says son of murdered journalist
Indo Asian News Service, Chandigarh |
Indo Asian News Service
Aug 28, 2017 07:39 PM IST
The murder case against the Dera Sacha Sauda chief is pending before the special CBI court in Panchkula.
The son of a journalist, who had first exposed sexual exploitation of female disciples of the Dera Sacha Sauda sect by its chief Gurmeet Ram Rahim Singh in 2002, said on Monday that their stand against the had been vindicated following his conviction and imprisonment for 10 years for the rape of two woman followers.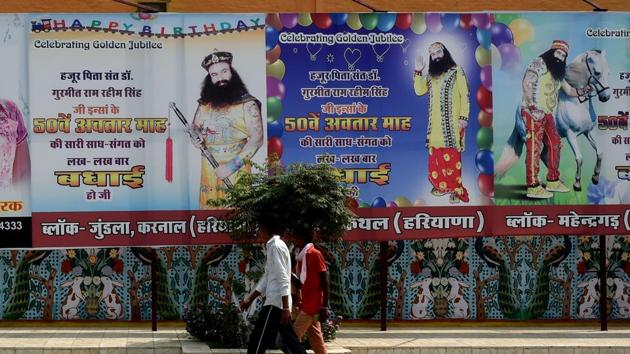 Anshul Chhatrapati, the son of murdered Sirsa-based journalist Ram Chandra Chhatrapati welcomed the CBI special court judgment awarding 20 years imprisonment to the Dera chief.
His father was shot dead, allegedly by sect supporters at the behest of the sect chief, in October 2002 after he wrote about shady activities inside the sect headquarters near Sirsa in his vernacular newspaper Poora Sach in 2002.
The murder case is pending before the special Central Bureau of Investigation (CBI) court in Panchkula and hearing of final arguments is likely to be held next month.
The anonymous complaint from one of the female disciples (Sadhvi) exposing the sexual exploitation and rape by the sect chief inside the sect headquarters was also made in 2002. The complaint was sent to the then Prime Minister Atal Bihari Vajpayee and the Chief Justice of the Punjab and Haryana High Court.
"Though he should have got more imprisonment, I am satisfied with the order of the court (10 years imprisonment). He had done a heinous crime. This has given strength to our fight against the might of this fraud saint," Anshul said while reacting to the conviction and sentencing of the Dera chief by the court.
The quantum of sentence was announced by special CBI special court judge Jagdeep Singh at a specially set up court inside the library of the District Jail in Sunaria near Rohtak town in Haryana where the sect chief was brought after his conviction on Friday.
The complaint in the case was filed in 2002. While the defence counsel had argued for minimum punishment for the disgraced sect chief saying that he was a social worker and had health issues, the prosecution side sought maximum punishment for the rape convict given his conduct.
There was drama inside the special court near Rohtak as the convicted sect chief broke down and pleaded with folded hands before the judge. After the sentence was announced, he sat down on the floor and wept. He was taken away by jail wardens.
The sect chief was also examined by doctors and found to be fine.