Ram Rahim breaks down, pleads for mercy as judge sends him to jail for 20 years
Flamboyant chief of Dera Sacha Sauda sect was last week found guilty of raping two woman disciples.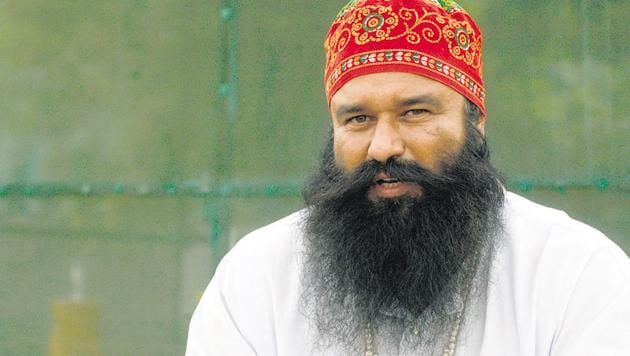 Updated on Aug 29, 2017 08:43 AM IST
Hindustan Times, Rohtak/Chandigarh |
Hardik Anand and Surender Sharma
A CBI court on Monday sentenced self-styled godman Gurmeet Ram Rahim Singh to 20 years in jail and fined him Rs 30 lakh for raping two disciples, saying he acted like a "wild beast" and didn't even spare his "pious" followers.
CBI court judge Jagdeep Singh, who was flown to the district jail in Haryana's Rohtak where the Dera Sacha Sauda chief is lodged to pronounce the punishment, said the sect leader did not deserve leniency as he had sexually exploited and intimidated his disciples.
"The convict did not even spare his own pious disciples and acted like a wild beast," the judge said. "Both the victims put the accused on the pedestal of God and revered him like that only. However, the convict committed breach of gravest nature by sexually assaulting such gullible and blind followers."
The flamboyant dera leader, who prefers bicep-baring T-shirts and takes on gangsters and aliens in his Messenger of God series of films, was in tears and pleaded with folded hands for mercy as the judge read out the verdict.
There were no reports of violence or arson after the sentencing, a contrast to August 25 when dera followers ran riot after he was found guilty in the 15-year-old case, leading to 38 deaths.
HT was the first to report that Ram Rahim faces prospects of harsher punishment. (Read the story here)
"It is 20 years in jail for Singh as two sentences will run consecutively with fine of Rs 30 lakh," his lawyer SK Garg Narwana told HT.
The court set aside the defence team's plea that Singh should be shown leniency because he was a social worker and was suffering from hyper-tension, acute diabetes and severe backache.
"… a man who has no concern for humanity, nor has any mercy in his nature, does not deserve leniency from the court," it said, ordering both the victims be paid Rs 14 lakh each. Failure to pay would lead to two more years in jail. The remaining Rs 2 lakh will towards legal services authority.
During the proceedings that lasted for about four-and-a half hours, Singh said he was unwell and three ambulances were seen moving towards the jail complex. He was examined by a group of doctors, led by the Rohtak chief medical officer, and found to be fine.
After the sentence was announced, the 50-year-old Singh, who enjoys immense political clout on the back of millions of followers, sat down on the floor and wept. The burly leader had to be dragged to his barrack.
Singh would be lodged in a high-security cell and would have to do at least five hours of work in jail though it is not clear where he will serve the sentence.
He was flown to Rohtak as his followers rioted in Panchkula, where the case was heard, and other parts of Haryana and four other states.
The Punjab and Haryana high court had ordered that the judge be flown to the district jail to ensure his safety and that of his staff. The library was turned into a court room with a five-tier security cordon thrown around the jail.
The verdict was followed by hours of confusion with little information trickling out of the jail, where media wasn't allowed.
Police had kept mediapersons a little more than a kilometer outside the jail. Initial reports said Singh would serve 10 years but later, lawyers clarified he had been handed two consecutive 10-year terms.
Stray incidents of arson were reported minutes before the verdict in Haryana's Sirsa, where the sect is headquartered, but the presence of thousands of security personnel across the state and neighbouring Punjab staved off the violence that was witnessed on August 25.
"We will appeal the verdict in the high court," Narwana said.
Singh could be staring at more trouble. Trial in two cases of plotting murder is in final stages and the CBI is probing accusations that he ordered castration of 400 of his followers.
(With inputs from Prawesh Lama, agencies)
Close Story