During Rajan tenure, RBI said demonetisation was 'not a wise move': Chidambaram
In an interview with Hindustan Times on Tuesday, he said the central bank, then headed by Raghuram Rajan, had sent a five-page note to the PMO, saying that demonetisation was "not a wise move". Prime Minister Narendra Modi, however, announced the decision on November 8 last year.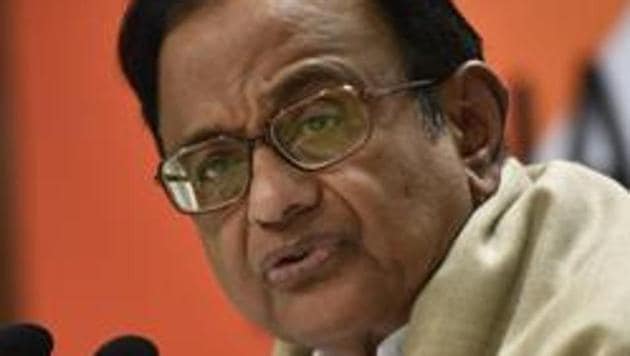 Updated on Feb 15, 2017 12:16 PM IST
The Reserve Bank of India was opposed to the recall of Rs 500 and Rs 1,000 notes and conveyed its reservations to the Prime Minister's Office (PMO) two months before the decision was announced, former finance minister P Chidambaram has suggested.
In an interview with Hindustan Times on Tuesday, he said the central bank, then headed by Raghuram Rajan, had sent a five-page note to the PMO, saying that demonetisation was "not a wise move". Prime Minister Narendra Modi, however, announced the decision on November 8 last year.
"It's fairly reliable that about the time Dr Raghuram Rajan demitted office, on behalf of the RBI, a five-page note was sent to the PMO on demonetisation. Now whether it's correct or not, it's for the government to confirm or deny. If such a paper exists, the government must make it public so that we could have an informed debate on demonetisation. I don't know what the note contains but the conclusion I believe was that demonetisation is not a wise step," Chidambaram told HT.
Read| Note ban was reason Raghuram Rajan left the RBI, claims Chidambaram
The central bank refused to comment on the matter.
The former finance minister enjoyed a good rapport with Rajan, who demitted office as the RBI governor on September 4.
In his foreword to Chidambaram's recently released book, "Fearless in Opposition: Power and Accountability", Rajan writes: "Even though as RBI Governor through much of last year I was part of the governing establishment, and therefore bear responsibility to some of Mr Chidambaram's concerns, I have no hesitation in saying that we need people of Mr Chidambaram's caliber to point out not just what he believes is going wrong, but what can be done to set it right."
Asked if his opposition to demonetisation could have been a reason for the NDA government not to give another term to the then RBI governor, Chidambaram said, "In retrospect, that could be one of the reasons but I think there were other reasons also".
Read| Demonetisation is immoral, theft of people's property: Steve Forbes
"Dr Rajan is a man of international stature. He is not going to do the bidding of this government. He will take independent positions. He will speak freely. He will comment on what's happening. I think this government was more afraid of his ability to speak on many issues and therefore, decided to create a situation where he could not continue."
The former finance minister said that the RBI's stature got diminished "considerably" after November 8. "It was among the most respected central banks of the world. Now I think its stature has been severely compromised."
Chidambaram said that "practically, all the money has already come back (into the banking system)" post-demonetisation, if one were to take into account money in Nepal and Bhutan, with NRIs and with money-changers in different countries.
"Practically, every rupee has come back. So, why did you do this? You first demonetize the currency and then you say I am going to re-monetize the economy. What for? It's a completely wasteful exercise. Therefore, I said khoda pahar, nikli chuhiya. You move a mountain and get a rat."
Read| Note ban not enough: Corruption in India is like water, it finds a way
He said he was "absolutely certain" that the shadow of demonetisation would fall "entirely" through 2017-18 and might spill over to 2018-19. To recover from the "devastation" of demonetisation, it will take "at least 18 months".
"SMEs (small and medium enterprises) have to re-open and revive; people who have migrated back to their homes have to go back to their workplaces; people whose accounts were performing and which have now become NPAs (non-performing assets) have to recover from that and go back to performing accounts. Above all, people must have confidence in the system to spend their money. Today, people have no confidence, they are not spending. They are hoarding whatever cash they have. It will take a minimum of 18 months."
He slammed the RBI for not responding to an application under the Right to Information Act, seeking to know how much currency was there with it on November 8 and how much was printed between November 8 and December 30.
"And the RBI replies that it is concerning security and therefore, will not reveal the information. How absurd is this! Why should the RBI not reveal how much currency it is printing and how much it has printed and how much has been put into the market? Why can't these matters be revealed?"
Read|Demonetisation has been monumental management failure, says Manmohan
Chidambaram castigated Modi for quoting from Madhav Godbole's book in which the former bureaucrat claimed that former PM Indira Gandhi had rejected the idea of demonetisation telling then finance minister YB Chavan about electoral compulsions.
"That's hearsay. Godbole writes about that in his book. There is no way to verify it. Indira Gandhi is no more. YB Chavan is no more. Mr Godbole has made that statement but how can the Prime Minister of India pick that statement and say in Parliament that this was authentic?"
He flayed Modi for his caustic bathing-in-a-raincoat remarks against former PM Manmohan Singh.
"It was in poor taste. The Prime Minister must respect his own office and those who held the office before him. He must remember he is speaking from a seat where Jawaharlal Nehru sat and where Atal Bihari Vajpayee sat. I ask myself would a Nehru, a Vajpayee, a Lal Bahadur Shastri or even a Morarji Desai have made such a statement? I don't think so."
Chidambaram said Modi made those remarks because that is "his nature".
"He is always in campaign mode. He doesn't keep the distinction between a Prime Minister speaking in Parliament and a leader of a party on a political campaign. He gets carried away and he tends to believe that that's the way one should speak whatever be the occasion."
Read| Manmohan Singh slams Modi govt over demonetisation, says worst is yet to come
Close Story