Demonetisation has been monumental management failure, says Manmohan
Nov 24, 2016 03:36 PM IST
The government's decision to recall high-value banknotes two weeks ago was implemented with "monumental mismanagement" that may shave off at least 2 percentage points from India's GDP, former prime minister Manmohan Singh told Parliament on Thursday.
The government's decision to recall high-value banknotes has been implemented with "monumental mismanagement" that might shave at least 2 percentage points off India's economic growth rate, former prime minister Manmohan Singh told Parliament on Thursday.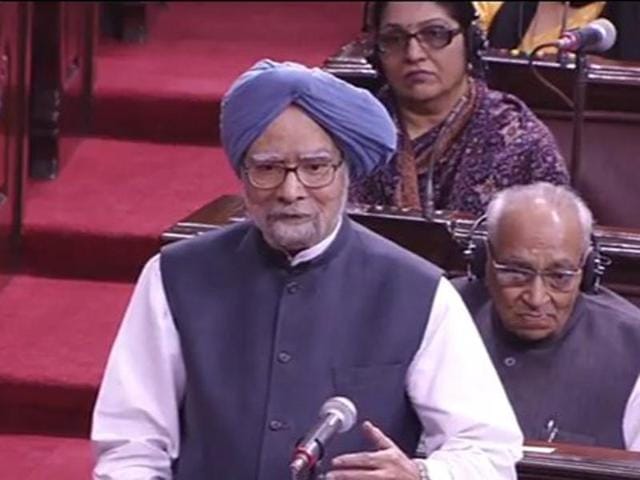 In a strongly worded attack on the government in the Rajya Sabha, Singh said several deaths and distress among the poor, farmers and small traders convinced him the demonetisation plan led to "organised loot and legalised plunder".
Stay tuned with breaking news on HT Channel on Facebook.
Join Now
"Already 60 or 65 people have lost their lives, possibly more. This move will weaken and erode the people's confidence in our currency and banking system," he said, with Prime Minister Narendra Modi sitting in the treasury benches.
Prime Minister Narendra Modi scrapped Rs 500 and Rs 1000 notes – which accounted for 86% of the currency in circulation by value -- in a shock announcement on November 8 in a bid to stamp out illegal cash and counterfeit currency.
Read | Parliament Highlights: Congress mounts attack against PM Modi over demonetisation
But a bumpy rollout of the new currency has seen millions of people line up outside banks and ATMs across the country with small traders and farmers the worst hit.
Experts say the move has deeply damaged India's mostly cash economy where online transactions are uncommon and hobbled by a lack of connectivity and poor network across the vast countryside.
The estimated cost of the demonetisation move may top Rs 1 lakh crore, analysts have warned, with tens of thousands of workers in informal sectors already bearing the brunt of the cash crunch.
This has emboldened the Opposition, which has lashed out at Modi for not defending the move in Parliament while accusing him of unleashing "financial anarchy".
Singh – who was in power for 10 years and is credited with unlocking several years of high growth by opening up the country's economy in a previous stint as finance minister – stuck to the line taken by his Congress party.
Read | Study says demonetisation may spell doom for the economy: Here's why
"In my opinion, demonetisation will hurt agricultural growth, small industries and all those who are in the informal sectors. I urge the prime minister to find practical and pragmatic ways and means to end the distress of people."
"It is no good that every day, the banking system modifies rules and conditions. This reflects poorly on the office of the PM, finance ministry and the Reserve Bank of India. I am very sorry that the RBI has been exposed to this criticism."
He said he didn't disagree with the objectives but asked Modi to name countries where people were barred from withdrawing their own incomes, adding that the move hurt agriculture and the cooperative banking system that serves huge swathes of rural India.
"The government tells us that there will be distress in the short term but national interest will be served in the long term. I am reminded of Keynes who said 'in the long run, all of us are dead'.
The debate over demonetisation has also rocked Parliament with opposition parties repeatedly disrupting proceedings in both Houses and little legislative business transacted in the first week of the winter session.