Record wheat crop likely as acreage up
Jan 28, 2023 11:06 PM IST
Robust wheat output, sown in November and harvested in March-April, will ease the current shortage and help put a lid on record cereal inflation
India's wheat production in 2023 is expected to be a record 112 million tonnes as good weather pushed the acreage under the staple to 34.1 million hectares, 12% higher than the five-year average of 30.4 million, two officials from the agriculture ministry said.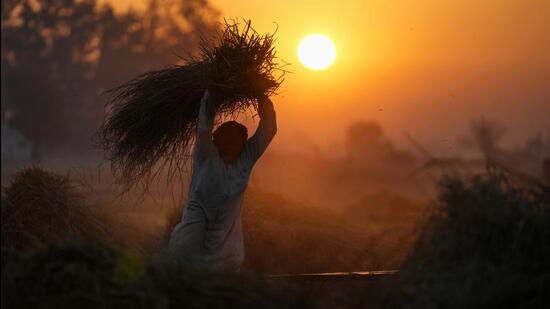 A bumper harvest, necessary to lift farm incomes, cool food inflation and replenish low wheat stocks, is "certain" if the weather continues to be "favourable and conducive" in the next two months, especially around harvesting, an official said, seeking anonymity.
Wheat-damaging heatwaves in early summer in the food-bowl states of northwest India are becoming more frequent. As temperatures soared past 40 degrees Celsius in March last year, the hottest on record, farmer Gurbaksh Nagi of Punjab's Mansa district noticed that stalks of his maturing grains had turned brown from yellow, a sign they had shriveled.
ALSO READ: Reviving intercropping system, millet cultivation earned this Himachal farmer Padma Shri
Last year's losses came on the heels of a similar heatwave in 2010 and a milder one in 2019. They signal the risks posed by climate change to India's long-term food security, experts say.
The previous record for wheat production was 109.59 million tonne in 2020-21, despite the pandemic. In 2021-22, output of the staple declined to 106.84 million tonnes due to a prolonged heat wave just before harvesting, according to agriculture ministry data. This had resulted in the lowest government purchases in 15 years.
Officials expect a bumper wheat crop because cultivators have sown expensive, high-yielding varieties in nearly all of Punjab, Haryana and Madhya Pradesh, taking a cue from sharply higher wheat prices this year after extreme weather trimmed the country's wheat output in 2022.
Robust wheat output, sown in November and harvested in March-April, will ease the current shortage and help put a lid on record cereal inflation. Stocks ran low despite India, the second largest wheat grower, banned overseas sales of the cereal in May last year.
ALSO READ: Importance of the Budget for agriculture sector
Wheat prices last week were up to 40% higher in Indore markets – a benchmark – than the federally determined minimum support price of ₹2015 a quintal (100kg) mainly on account of low stocks.
The area under all major rabi crops has risen by 3% from a year ago, as winter sowing operations are almost over. The coverage under mustard, a key oilseed, is up 7.5% year-on.
Last week, the Centre offered to sell 3 million tonne of wheat in the open market at a discount to tamp prices, a decision aided by expectations of a robust harvest.
"The spells of cold wave as well as light rainfall recently in northwestern states is good for the crop," said Rahul Chauhan of IGrain, a commodities tracker.