'Everyone will find their match': Harsh Vardhan on Biocon chief's vaccine-marriage humour
Union minister Dr Harsh Vardhan on Saturday said Indians will be spoilt for vaccine choice as Biocon chief Kiran Mazumdar-Shaw compared the vaccine situation with that of an arranged marriage.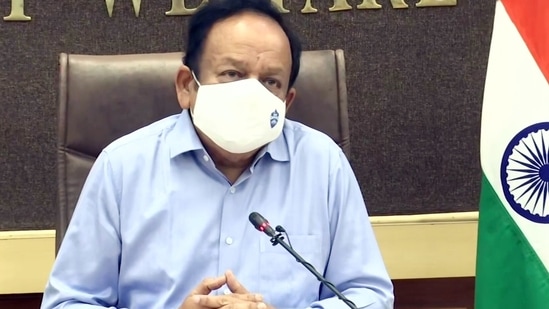 Updated on May 15, 2021 09:14 PM IST
Union health minister Dr Harsh Vardhan on Saturday said Indians may soon be spoilt for choice when it comes to vaccines against Covid-19 as several vaccine manufacturers are on board to augment the supply and foreign candidates are also entering the scene. The minister's assertion comes as a reply to Biocon Chief Kiran Mazumdar-Shaw's tweet in which she compared India's vaccine situation with that of an arranged marriage, in a light-hearted jibe.
Centre pins hopes on 5 Covid vaccines apart from Covishield, Covaxin, Sputnik
The Biocon chief has been sceptical about India's vaccination drive. On Saturday, Kiran Mazumdar-Shaw said like in an arranged marriage, in India's vaccine situation too, first "you are not ready, then you don't like any, then you don't get any". Like in an arranged marriage, those who got are unhappy thinking maybe the other one would have been better and those who did not get any are willing to get anyone, she said.
In a light-hearted jibe, Shaw took on the current shortage of vaccines in the country, which forced many states to temporarily suspend the vaccination of people in the age group of 18 to 44 years.
Union minister Harsh Vardhan was not the only one to reply to the Biocon chief in a similar vein. Union minister Hardeep Singh Puri too said, "Not all marriages begin with love at first sight".
Continuing the light-hearted banter, Harsh Vardhan said that there in this vaccine-marriage market, everyone will find their perfect match as several manufacturers are coming on board to augment the supply, while the entry of foreign manufacturers is being fast-tracked and then there are some new potential candidates. One may be left cherry-picking, the minister said.
Though the vaccination drive in India began with two vaccines — Covishield and Covaxin — initially the beneficiaries did not have a choice between the two. Frontline workers were administered free doses according to availability in the first two months. As the vaccination drive is proceeding to the next steps, beneficiaries can choose hospitals with either Covaxin and Covishield from Cowin.
According to government's estimate, over 200 crore doses of Covid-19 vaccines will be available in India before December 2021, which includes 75 crore doses of Covishield, 55 crore of Covaxin, 30 crore Bio E Sub unit vaccine, five crore Zydus Cadila DNA vaccine, 20 crore Serum Institute's Covavax, 10 crore Bharat Biotech's nasal vaccine, six crore Gennova mRNA vaccine and 15.6 crore Sputnik vaccine. Sputnik will be available in the market from next week, the ministry said.
Topics
Close Story