CS Karnan, retd Calcutta HC judge on the run since May 9, arrested in Coimbatore
The Supreme Court sentenced justice CS Karnan to six months in prison on charges of contempt on May 9, a first for a serving judicial officer in what has been an unprecedented face-off in the upper judiciary over alleged corruption.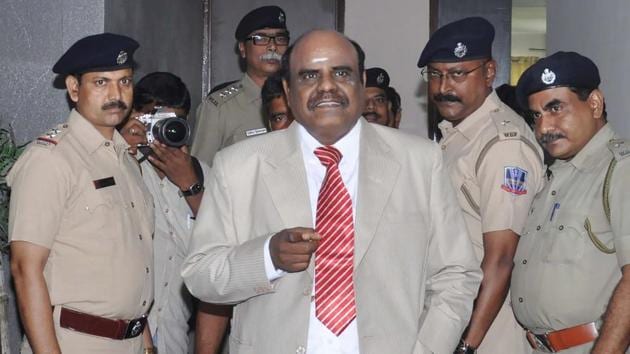 Updated on Jun 20, 2017 11:42 PM IST
CS Karnan, a former Kolkata high court judge who had triggered an unprecedented face-off in the judiciary over alleged corruption, was arrested from Coimbatore on Tuesday, more than a month after he became the first judicial officer to retire as a fugitive.
Karnan, 62, was sentenced to serve a six-month jail term by the Surpeme Court on May 9 for contempt of court. He was a serving judge then but went into hiding within a couple of days.
Three teams of West Bengal police arrested him from private resort in Tamil Nadu, his home state.
Raj Kanojia, West Bengal director general of police (home guards), told reporters Karnan was arrested at around 7pm.
"He resisted our officers and there was an argument also. Despite that, we arrested him," a senior officer of the CID said in Kolkata.
Peter Ramesh Kumar, the advocate defending Karnan, confirmed Karnan's arrest.
The former judge will be produced in a court in Chennai on Wednesday for a transit remand required to take him to Kolkata, the official added.
A six-member team led by Kanojia was camping in Tamil Nadu for a hunt to hunt for former judge, who retired on June 12.
Coimbatore city police commissioner Amalraj said they only provided "technical support" to the Bengal police team to trace Karnan.
The SC sentencing of Karnan came after a months-long, and sometimes farcical, standoff with the top court that saw the two sides issuing a string of orders against each other.
The top court had barred the media from reporting anything on Karnan or quoting him.
The controversy began in January when Karnan wrote to Prime Minister Narendra Modi to order an investigation against judges of the Madras high court and the apex court of corruption.
Karnan was transferred to Calcutta from the Madras high court in March last year after repeated allegations and run-ins with fellow judges.
The government has cited the controversy to push for transparency in appointment of judges in higher courts.
(With agency inputs)
Close Story