Return of Sushil Kumar Modi in Avatar 2.0
Updated on Jul 27, 2017 06:06 PM IST
The BJP leader exposed one by one the role of former Union ministers from the RJD in fattening Lalu's purse and expanding his landed possessions and how the RJD chief made his followers transfer land for a slice of pelf and power.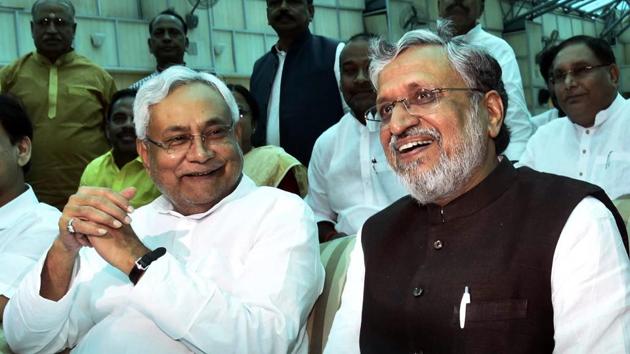 Just before the last assembly elections, Sushil Kumar Modi sat in his war room at 1, Polo Road residence, close to the Loknayak Jayprakash Narayan international airport, pondering over reams of paper churned out by his staff seated in another room. Party chief Amit Shah was about to unleash a barnstorming of Bihar; so was Prime Minister Narendra Modi.
"Where would I fit in and how," he may have wondered even as party supporters crammed every nook and corner of the expansive house and spilling onto the manicured lawns.
Never the reclusive, despite, chief minister Nitish Kumar turning him and his party into a pariah in 2013 by splitting the hugely successful NDA regime since 2005, the challenges ahead were clear: Would he be able to charm the Bihar constituency so riven by caste and against such a formidable opposition unleashed by his former friends of Jayprakash Narayan days in 1973 - Lalu Prasad and Nitish Kumar - who had so unpredictably come together.
Sushil Modi or 'SuMo', as he is often called, had been the most visible face of the BJP, rising steadily through the ranks to become Bihar's deputy chief minister after the party won 91 seats of the 100 it fought in 2005 in alliance with "Mr Development" Nitish Kumar.
But in 2015, his party lost to the caste arithmetic despite that fact that Modi attended over 1200 rallies through the 40 constituencies and 242 segments relentlessly for over three months flying and walking over 35,000 miles across Bihar, as he recalled. The saffron chant of Yahan bhi Modi, wahan bhi Modi (A modi here, a Modi there), a slogan that sowed more envy in his own ranks and unexpressed anger, also did not work.
He spoke relentlessly of political perfidy, wondered how Kumar, who had opposed scam-tainted Prasad to win two elections in 2005 and 2010, could go back to the same person again? Non-charismatic but straightforward and sharp on analytics, his stoic rendering of his politics failed to work. The BJP, which had just 53 seats before it joined Kumar, had fallen to exactly to the same number and its NDA allies secured another 5 seats — far short to ensure a shot at governance or even a future.
That started SuMo's slide in the eyes of his party and his relegation to the 'second tier' within, as younger leaders were pitchforked, his assignments cut down and his role limited to Bihar, even as much less articulate or efficient became prime movers in UP elections and elsewhere.
He wistfully watched the development and feared that his over 47 years of dedication to the ABVP, the Janata Party, and the BJP, stood wasted. His big backer and 'Bhisma', LK Advani too was out of favour and his backing of Kumar, even describing his 'dost' (friend) as a 'future prime minister', seemed to have done him the ultimate harm as anti-groups within the BJP now openly gunned for him.
Lesser mortals would have baulked just thinking about tracking a climb back. Then, as he does best, the thinker in him plotted his return to the centre stage.
"I have had an uncertain childhood and I have seen poverty and want. In the political years, my party emerged as the family to keep me strong," he averred, wishing away any bitterness he may have had at the turn of events. If he thought otherwise, he never showed.
Reluctantly recounting his father Moti Lal Modi's struggles on the pavements of Patna Market in Nauhatta, selling inner garments laid out on an upturned umbrella after the Marwari Bania family had to migrate to India during Partition, he talked of the struggles for an education and money to keep the soul alive.
Money was hard to come by and despite mother Ratna's aspiration to see SuMo in best of schools, he had to change several schools. He then joined Patna University to top the botany stream before he plunged into student politics in 1973, even as the Gujarat students movement was making an impact to sow a whirlwind a year on under the iconic leadership of JP.
He shared space with his now bete noire Prasad, then president of Patna University students' union, two years older than him. He also knew Kumar, a law student nearby, and the same age as him. "We were a threesome," he recalls and letting escape a smile.
The JP movement was his big launch into politics and the experience at the ABVP helped him refine the nuances. He was detained under Maintenance of Internal Security Act (MISA) in 1974 and during Emergency in 1975 but emerged as a legislator from Kumhrar constituency in Patna in 1990 – a path that would take him to heights of power.
After 2014 - after the Bihar drubbing - Modi, who had been a deputy chief minister and chairman of the central committee on GST, would have expected some leeway. He was ignored, sidelined, and not offered a Rajya Sabha seat, or even a minor ministership at the Centre, which he may have expected. The blow came when his supporters were selectively removed from party posts — few survived. The marginalisation had seemed complete.
Then came the Lalu papers, which SuMo, the man with an eye for detail unearthed. The series of exposes over 100 days and running into 3000 pages of documents unerringly hit back at Prasad and his family successfully cornering the Yadav first family and rendering it speechless.
Modi unearthed the land, which was registered in the family's name in lieu of farming out of railway land, the illegal farmhouses in Delhi amassed by Prasad's daughter and Rajya Sabha MP, Misa Yadav, and her husband Shailesh, the illegal petrol pump of Tej Pratap Yadav, his older son, and 26 properties of former deputy chief minister Tejashwi Prasad Yadav, half of which he 'acquired' by transfer in benami or proxy deals.
The impact on Bihar was numbing. Modi exposed one by one the role of former Union ministers from the RJD in fattening Prasad's purse and expanding his landed possessions and how the RJD chief made his followers transfer land for a slice of pelf and power. With law enforcing agencies such as CBI and the Enforcement Directorate picking up the scent and lodging FIR's, Modi re-established himself as the numero uno politician in the state BJP once again to the discomfiture of his detractors.
His old friend Kumar may have ensured he is back as the deputy chief minister, but Modi's efficiency in managing difficult departments such as finance and being a valuable aide to guide the government in the first two Bihar NDA stints have had a part in his return.
His relevance to Bihar and the BJP has just been re-established and revalidated.
Personalise your news feed. Follow trending topics