RSS says it's getting new members, breaking 'myths' about its ideology
Jul 03, 2018 11:34 AM IST
RSS' shakhas are growing all over India and people from all professions are joining them. RSS' Hindutva ideology and its extreme positions are not stopping people from joining the organisation
A job with a tech major straight out of college, stints with other multinational companies, a lucrative assignment overseas, this young Rashtriya SwayamSewak Sangh (RSS) volunteer was living the new Indian dream.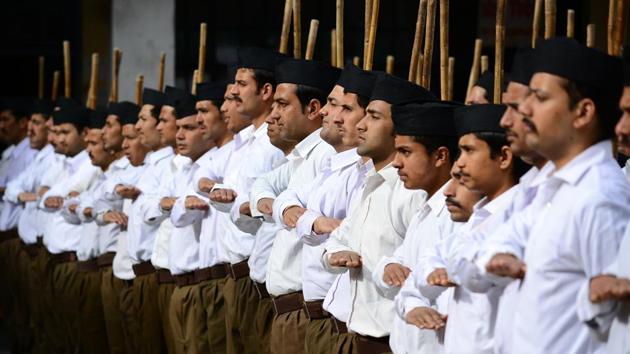 But something was missing, says the soft-spoken father of one who asked that his name be withheld.
"I was living abroad and I asked my housekeeper if she would come to work on Sunday. She smiled and reminded me it was her day to be at church. She was not willing to sacrifice her religion and values for money; it hit me then that we [Indians] have moved miles away from home, from our culture, and our religious beliefs. I decided it was time to go back," he said of his decision to quit his high-paying job to return home.
He now teaches in a Delhi college, but that is his day job. On most weekends, and for most part of his non-working hours, he is a dedicated worker of RSS, the ideological parent of the Bharatiya Janata Party (BJP).
His induction into an organisation perceived largely as orthodox and conservative began with "curiosity" which paved the way for "conviction".
"I grew up in Madhya Pradesh and had seen RSS workers exercise in a park near my home. I wanted to explore what the ideology was, and honestly wanted a change in my lifestyle. A few shakha (literally, branch) meetings later, I realised this is what I wanted, a platform to work for the nation," he said.
A second volunteer, who continues to work for an IT company says his exposure to shakha meetings led him to join in efforts to clean up the neighbourhood, help educate children in a slum-cluster, and, in recent months, assist the less-privileged access the government's social welfare schemes.
The RSS' Hindutva ideology, and its extreme position on issues does not seem to deter its volunteers who gather annually at the various shiksha vargs (training camps that are held for various ages).
"People on the outside find its views extreme, but when you join and understand the discourse here, you realise it is a very flexible organisation, dedicated to serving the nation. I have been with the Sangh for three decades (he joined in his teens), and have never found it to have an extreme approach," said a third volunteer who spoke on condition of anonymity. HT met the volunteers at various camps, including one organised exclusively for IT professionals.
"The camp itself is an example of the Sangh's flexible and modern approach; keeping in view the professional challenges of these IT professionals we have designed the camp in such a way that it does not impinge on their duties," explained a senior RSS functionary who asked not to be identified .
In the past few years, the number of attendees at such camps has steadily increased. In 2013-14, 10435 volunteers attended the first year camp (for those attending RSS camps for the first time); the number rose to 15716 in 2017-18. Similarly, the number of those who attended the third year camp has risen from 607 to 899 for the same period.
At the camps, which are held annually, volunteers take a break from work or studies for a duration of at least 14 days. They pay for their own board and lodging and travel expenses and live in makeshift spaces, giving up contact with family and friends for the duration of the entire camp. Functionaries assert that the RSS cadre is not driven by political ambitions and doesn't see the Sangh as an easy way to get a foothold in the BJP.
"There are some who make the transition to politics, but most people, depending on their profession and inclination choose to work with affiliates in their domain. So lawyers gravitate towards the Akhil Bharatiya Adhivakta Parishad, while those inclined towards science find a platform in Vijnana Bharati," said a second functionary, who too asked not to be identified. While the Sangh tries to demarcate its work from electoral politics of the BJP, its attempts to do so do is not necessarily undercut their umbilical connections. Social scientist Shiv Visvanathan said the BJP and RSS are ideologically unified and the differences could be in terms of strategy.
According to Visvanathan, a professor at Jindal Global Law School : "The Rashtriya Swayamsewak Sangh presents itself as a cultural organisation and the BJP as a parliamentary one, but both cultural and parliamentary are political. As for the differences, there are no disagreements over core issues and it is unthinkable to think of one without the other."
Opponents of the Sangh accuse its ideology of being regressive and dogmatist. They cite the demand for a ban on beef and the Sangh's call for bans on some popular films to buttress their claims. So, how do younger members reconcile with these? "We look at things in perspective. If history showing India in poor light is taught in schools, it must be opposed. We are not against meat consumption, but we must consider the scientific and religious reasons of those who want a ban on cow slaughter," said the third volunteer.
Indeed, with an eye on scotching possible differences, the ideas of service and nationalism are reinforced at the training camps. Pride in Indian culture, going back to the religious texts and regional literature are encouraged.
The volunteers are also coached in taking on opposition and countering allegations against the Sangh—of being anti-minorities, anti-reservation, and not having played a role during the freedom movement.
A third Sangh functionary who spoke on condition of anonymity said the growing numbers of shakhas and enrolments is evidence of the "myth" that the young don't align with the RSS. The Sangh boasts of being "five million" strong, and has promised to increase that number four-fold by 2025, when it completes a centenary. "We have to spread far and wide. Our goal right now is to ensure our presence at every locality in every city and village," the second functionary said.