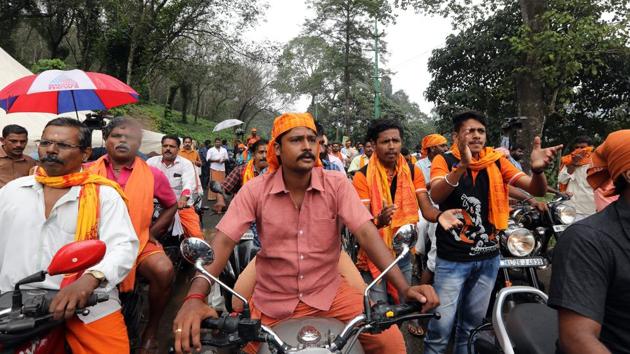 RSS turned Sabarimala pilgrim spot into a battleground: Kerala CM Pinarayi Vijayan
Kerala chief minister Pinarayi Vijayan was commenting on the protests that prevented the entry of women of menstruating age inside the Sabarimala temple despite the Supreme Cour order.
UPDATED ON OCT 23, 2018 01:08 PM IST
Kerala Chief Minister Pinarayi Vijayan on Tuesday came down hard on the BJP and its ideological mentor RSS that had been seen to back protesters opposing entry of women into Sabarimala temple, accusing them of turning the pilgrim spot into a battle ground to gain a foot-hold in the state's politics.
"There was a big conspiracy to convert the sacred temple into a warzone," Pinarayi Vijayan said at the media briefing hours after the temple shut its doors till next month after a five-day ritual.
The Supreme Court had last month ended a centuries-old ban on the entry of women of menstruating age into the hill-top shrine site. But protests, sometimes violent, by traditionalists made sure they still could not enter the temple shrine despite last month's Supreme Court order that allowed women of all ages to pray at the holy site.
"The RSS is responsible for the violence that the state has never witnessed before... It is desperate to gain a foothold and resorting to dirty tricks of every kind," the chief minister said, adding it is sad that the Congress had also parked itself on the RSS side.
The BJP promptly hit back. "It seems the government is committed to hurt the sentiments of devotees. The state has never seen such an insensitive government, Kerala BJP president PS Sreedharan Pillai said, predicting .
It seems the last communist government of the country will be on its last leg.
The chief minister was also critical of the tantri, or the temple's chief priest, who stopped rituals to force two women – a journalist and an activist – to give up their attempt to enter the temple after they reached within 500 metres of it.
Vijayan said what the chief priest did was against the Supreme Court verdict. "He can't make such threats," the chief minister said.
At least 12 women, including journalists and activists, had tried to trek to the temple nestled in the greenery of the Western Ghats during the five days; two of them were just 50 metres away from the sanctum sanctorum.
But every one of them was turned away by a wall of resistance mounted by protesters who claim women of menstrual age cannot enter the shrine because the presiding deity, Lord Ayyappa, is considered celibate.
The chief minister underlined that there was, however, no going back on the Sabarimala verdict for the state government which, he said, was "committed to make Sabarimala a peaceful pilgrim spot".
Close