Gulal verdict: Saffron gives Red a tough fight in Tripura Holi bazaar
Hindustan Times, Agartala |
Priyanka Deb Barman
Mar 01, 2018 10:13 PM IST
Multiple exit polls have given the BJP the edge in elections this time in Tripura.
A two-day Holi bash is guaranteed in Tripura this year. Who celebrates and who does not will depend on political leanings and assembly poll results to be announced on Saturday — a day after the festival of colours.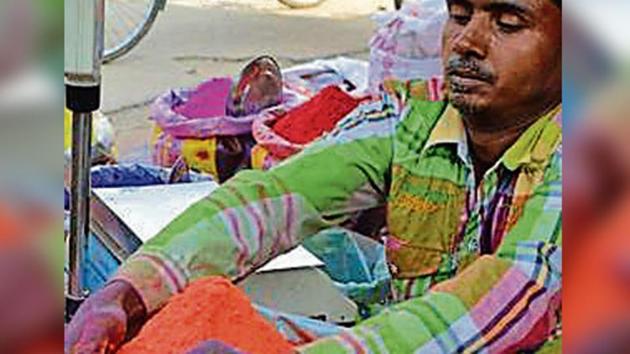 Exit poll predictions have built a never before seen buzz and there is a saffron gulaal (coloured powder) surge in the state's bazaars, competing with traditional powerhouse red. While saffron as a political colour is associated with the Bharatiya Janata Party (BJP), red is the traditional shade of communists.
Tripura has been a red bastion for 25 years under the ruling Communist Party of India (Marxist)-led Left Front. Multiple exit polls, however, give the BJP an edge this time. At least two exit polls have tipped the BJP and its ally, the Indigenous Peoples Front of Tripura (IPFT), to win a clear majority, while another predicts it will be close fight, with the Left ahead.
BJP supporters are stocking up on saffron gulal in anticipation. "I have bought saffron colour and will use it on Saturday to celebrate the BJP's certain victory," said college student Bonani DasGupta.
Ashim Saha, a CPI(M) worker, however, is confident the Left's winning streak will continue. "We will celebrate with red colour on Saturday," he said.
Incidentally, saffron gulaal is now at least twice as expensive as the red variety, which is available through the year for various functions apart from marking political victories. This wasn't the case earlier, when saffron gulaal used to sell at the same price as red and other colours, according to traders.
"Red and saffron gulaal are in heavy demand. While red is going between Rs 35 and Rs 60 per kg, the price of saffron gulaal has risen from below Rs 50 per kg to Rs 120," said Pradip Dey, a wholesale trader of Holi colours in state capital Agartala. "Saffron gulaal has the same ingredients as the other colours, but the surge in demand has driven up the price," he added.
Manishankar Acharjee, another Holi colour trader in the city, said he had made a neat profit. "People from rival parties are getting ready to cheer on March 3 (result day)."
Dulal Banik, another colour seller, said, "I have never seen such a demand for saffron colour."
Domestic worker Maya Das said, "I was not even aware that saffron gulaal was available."
In the state capital, the colour riot on Saturday will play out at party headquarters of the victor. The CPI(M) office at Melar Math and the BJP office at Bijoy Chowmuhani are less than 2km apart.