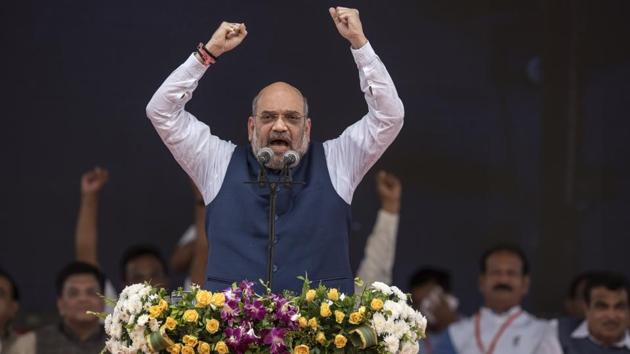 BJP chief Amit Shah's animal analogy riles opposition parties
Addressing a rally in Mumbai, the BJP president also said the Modi government will not scrap the reservation policy nor allow anyone else to do so.
UPDATED ON APR 06, 2018 11:36 PM IST
Bharatiya Janata Party (BJP) president Amit Shah on Friday likened the coming together of opposition parties to take on the BJP in the 2019 Lok Sabha elections with a group of animals scrambling together to escape a rising tide, leading to criticism from opposition parties that he had "dragged political discourse to a new low".
Addressing a rally at Mumbai's Bandra Kurla Complex to mark the 38th foundation day of the BJP, Shah said: "The countdown for the 2019 polls has begun and opposition parties are giving a call to join hands. This reminds me of when there is a massive flood and snakes, mongooses, cats, dogs and even cheetahs and lions climb up on a banyan tree to save themselves from the water. Like these animals, political parties are coming together against the flood unleashed by Modi-ji."
At a press conference after the rally, Shah clarified that he had made reference only to showcase how ideologically disparate parties, and even opponents such as the Samajwadi Party and the Bahujan Samaj Party and the Congress and the Trinamool Congress, were coming together out of fear of Prime Minister Narendra Modi's popularity.
Several opposition leaders have been meeting in recent weeks to attempt to build an anti-BJP federal front for 2019.
The Congress described the remarks are "condemnable".
"The remarks are condemnable. It shows their (BJP's) mindset. They have repeatedly dragged the political discourse to a new low," senior Congress spokesperson Anand Sharma was quoted as saying by PTI. "In a democracy, we can't stoop down to the level of being unparliamentary in our language," Mumbai Congress president Sanjay Nirupam was quoted as saying by IANS.
Communist Party of India leader D Raja said the remarks were not becoming of a parliamentarian. "He is also a member of the Rajya Sabha and he should remember that we are all democratic parties. People of this country will give a befitting reply," he said.
Trinamool Congress leader Derek O'Brien also criticised Shah for the remarks. "Of course we are political rivals, can we expect such language from the national president of the party in power? Basic courtesy? Too much to ask for?" he said.
During his address, Shah appeared to offer an olive branch to the Shiv Sena in the face of changing dynamics in the state and said that it was the BJP's "heartiest wish that the Sena stays with us". Despite a long-standing partnership, the Sena and the BJP have had tensions over the political space in Maharashtra in recent years. The Sena had recently indicated that it might fight the next elections on its own.
In his distinctly electoral address, Shah reacted to the this week's protests by Dalit groups against a perceived dilution of the Scheduled Caste/Scheduled Tribe (Prevention of Atrocities) Act, Shah stressed that his party would never remove reservations for Dalits or the Other Backward Classes.
"There is an attempt to spread lies that we want to demolish SC/ST Act. I would like to tell Rahul baba (Congress president Rahul Gandhi) and (Nationalist Congress Party chief) Sharad Pawar both that even if they want to do this we will not allow it," he said.
"Rahul is sitting nowadays with Pawar saheb and he has given him some injections.. so he is asking Modiji what our government has done for four years. However, the people want to know what his party has done for four generations," Shah added.
The BJP president ended his 21-minute speech by asking party workers to go to every house in preparation of 2019 polls to showcase the work done by the Modi government.
Close