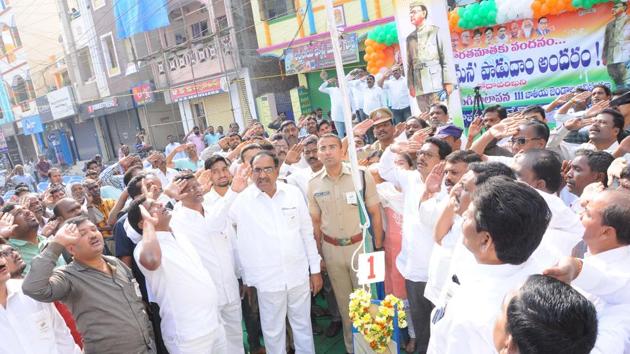 Telangana town sparks a trend of singing national anthem every day
An initiative by a police officer last year to spread nationalism is spreading across northern Telangana.
UPDATED ON JAN 24, 2018 05:13 PM IST
Inspired by the daily rendering of the national anthem in Jammikunta town of Karimnagar district, the Godavarikhani Chamber of Commerce and Trade on Tuesday launched a similar initiative in the town.
On Tuesday, Godavarikhani, a town in the coal belt region of Peddapalli district, started the practice of playing national anthem every day. At the stroke of 10 am, Godavarikhani, a town in the coal belt region of Peddapalli district came to a standstill for 52 seconds as the national anthem was played across the town through 25 public address systems at major junctions.
As many as 111 national flags were hoisted at a time, as Commissioner of Police Vikramjit Duggal of Ramagundam and its Mayor Konkati Lakshminarayana joined thousands of people in saluting the tricolour and singing the national anthem.
"Hereafter, singing of national anthem is going to be the part of the daily routine of the people in Godavarikhani," Ramagundam Chamber of Commerce and Trade president Rajesh Sharma told the local media.
The cue was an innovative initiative of singing national anthem every morning, launched by the police in Jammikunta town of Karimnagar district on Independence Day last year.
The singing of Jana Gana Mana everyday was the brain child of Jammikunta circle inspector of police Pingili Prashant Reddy who got the idea from the 2016 Supreme Court order making playing of national anthem compulsory in all cinema theatres before screening the film.
"My idea is to inculcate a spirit of nationalism and patriotism among the people who treat even national festivals like Independence Day and Republic Day as routine holidays. We are not enforcing this practice on the people but are only trying to inspire them. When we launched the initiative on August 15 last year, some people in the town did not respond, but now, everybody is feeling it a responsibility," Prashant Reddy said.
A clutch of villages in northern Telangana including Mothkulagudem, Dharmaram, Nagampet, Korutla, Kathalakunta, Illanthakunta, Kolanur, Marthanpet and Suddala have also adopted the same practice.
Reddy's initiative last year made media headlines and caught the attention of people in different parts of Telangana. "I have been getting calls from different youth organisations and village sarpanches on how to implement the programme," he said.
A remote village Bhanakpur in Haryana's Faridabad district has also been inspired by the initiative in Jammikunta. From January 5 this year more than 5,000 villagers have been singing national anthem at 8 am every day.
"Sarpanch of Bhanakpur Sachin Madotia came to know about our initiative and called me up to find the details," the Jammikunta inspector said.
In Korutla town of Jagitial district, the daily singing of the national anthem was launched with a lot of fanfare on New Year's Day by hoisting over 100 flags.
Last week, even Karimnagar district headquarters started playing the national anthem at the busy Clock Tower Circle as part of a joint initiative of the Tower Circle Friends Aassociation and the Municipal Corporation of Karimnagar (MCK).
Close