This week's internet sensation: Teacher dancing to Govinda song
Updated on Jun 01, 2018 02:41 PM IST
Sanjeev Shrivastava tried hard to succeed as a dancer when he was a young man. This week a video of him dancing at a wedding realised his dream.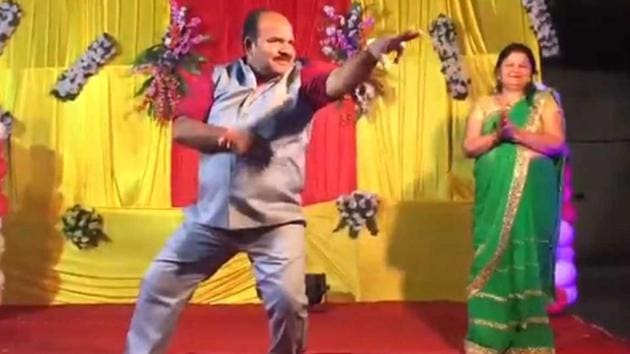 Hindustan Times, Bhopal and Raipur |
Ranjan Kumar Srivastava and Ritesh Mishra
Sanjeev Shrivastava was a young man when he tried to earn fame as a dancer in the eighties. That didn't work out but this week he became an internet sensation after videos of him dancing to Hindi movie songs became viral.
Shrivastava, 46, is an assistant professor of electronics at a private engineering institute in Bhopal and his phone has not stopped ringing this week. His friends, relatives, colleagues and strangers have been calling up to congratulate him for his new-found fame.
Shrivastava in a video clip is seen dancing to a song called 'May se Meena se na Saaaqi se' from the 1987 movie 'Khudgarz', starring actors Govinda and Neelam. The woman dancing coyly along with him is his wife Anjali.
"I have been dancing since 1982. Dance is a god-gifted talent in me. I was inspired by my mother Mohini Devi Shrivastava who has been a classical dancer. I have not got any formal training. I won Madhya Pradesh's best dancer award three times in the eighties in competitions held in Bhopal," said Shrivastava, who hails from Vidisha district.
Shrivastava was dancing at his brother-in-law's wedding in Gwalior on May 12 when someone shot the video. "I don't know who he is but I am really grateful to him. I never got such an appreciation before," he said.
"I never thought of uploading videos on my own, though I have performed hundreds of times at umpteen number of places free of cost as part of several dance and theatre groups and also as a special invitee on auspicious occasions in Madhya Pradesh, Maharashtra and several others states."
Twitter user Gautam Trivedi's post on Shrivastava's Govinda dance got more than 5,000 retweets and it has been 'liked' by more than 10,000 people. People on Twitter have praised Shrivastava, calling him "dancing uncle" and praising him for his zest.
In another video, Shrivastava is dancing to a remix of popular movie songs from the eighties.
Shrivastava says he regrets that there was no TV channel to promote his talent when he started dancing as a young man. His two sons Parv (12) and Aradhya (10) too are good at dance.